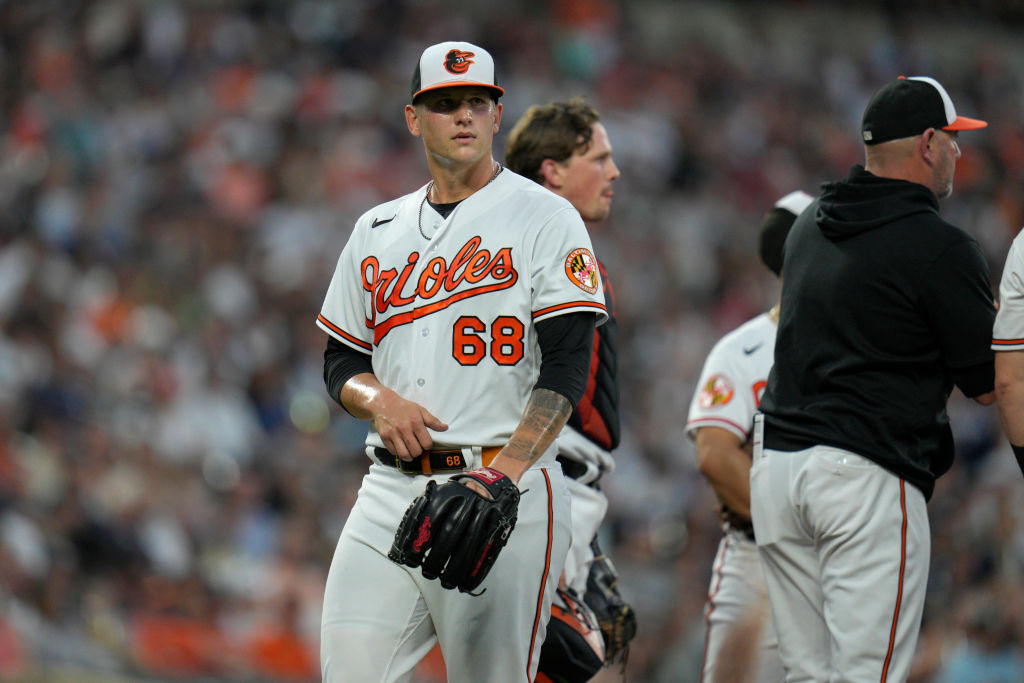 In Bowie, Wells back on the mound and Mullins begins his rehab games (Jackson Holliday was good too)
BOWIE, Md. – Before Saturday night at Prince George's Stadium, the last time right-hander Tyler Wells was seen on a mound he lasted just 2 2/3 innings. It was a week ago last night at Baltimore's Camden Yards where he allowed three runs and three hits on 63 pitches against the New York Yankees.
It was his third straight sub-par game – a stretch where he allowed 11 runs and nine walks over nine innings – and he was optioned to Double-A Bowie after that game.
He reported to the Baysox team here on Tuesday for a reset and to get his arm and body some rest. Scheduled to make a short start last night for Bowie, he took the mound in his No. 34 home white Baysox jersey to face the team with the second-best record in the Eastern League, Boston affiliate Portland.
Pitching at the Double-A level for the first time since the 2018 season and making just his second outing for an O's affiliate (one at High-A Aberdeen last year), Wells allowed two hits and one run on a solo homer over 3 1/3 innings Saturday night as Bowie beat Portland 9-4.
Wells walked one and fanned two, throwing 53 pitches, 35 for strikes. Many fastballs registered in the 93 mph range on the PG Stadium gun, so pretty normal for Wells, who has gone 7-6 with a 3.80 ERA for the Orioles.
He is trying to work his way back to the Orioles roster and last night was a nice first step for Wells. 
He rolled through the first, retiring three in a row on eight pitches and got three more consecutively on 12 pitches in the second. The Portland third began with center fielder Cedric Mullins, beginning a brief rehab outing with Bowie, making a leaping catch at the wall. Then Wells snared a hot-smash liner at the mound that knocked his hat, but not his glove, off. He was scoreless through three at 32 pitches.
In the Portland fourth, he allowed a leadoff solo homer to left by second baseman Nick Yorke, then struck out a batter and walked one and then Tyler Burch replaced him.
"I thought he commanded and threw the ball really well," Bowie manager Kyle Moore said postgame. "It was nice for a lot of our young starters to see how well he commanded the ball. The umpire was tight on the edges tonight, but Tyler did a nice job of overcoming that.
"He made one mistake on a changeup to a righty where he probably would like to have that pitch back, but thought he threw the ball well overall for a short outing."
It was thought Wells would pitch just three innings, but he was so efficient to that point, he was sent back out for the fourth to get into the 50-pitch range.
Moore said Wells has been helpful to his own pitchers and players in Bowie this week.
"It's been awesome," he said. "To see an older and experienced guy, he was talking to our guys about camaraderie. About starters going out and watching each other's bullpens. He was giving everybody high fives that came through the door. When you see someone with that much MLB service time doing that, it's big for our team."
Mullins went 1-for-6 as the Baysox leadoff hitter with a seventh-inning single to left. And he made that great play on defense in the Portland third.
"How about that catch he made in center field? That's a Gold Glove, All-Star center fielder. Made another catch at the wall, made it look so easy. Some of our guys were talking about how quickly he got back and he ended up camping (under it). I think it was a beautiful display. And then he got a hit off a guy throwing 100 (mph) to left field. He got to third base and he said, 'That was a real test there, but I like it.' That was nice to see him hit a guy with true velo," said Moore.
Mullins, who will DH tomorrow, also scored a run.
It has been a good week for Moore's Bowie team, which is in a battle to gain a second-half Eastern League playoff spot. They've gone 4-1 against a Portland team with the second-best record in the league at 57-44.
"We've played great. We pitched well and our offense has shown up big a couple nights. Nice to see the offense as a whole and that kid (Jackson) Holliday at short helps a lot. So nice to have him back," he said.
Holliday's return: Holliday is the No. 1 prospect in baseball and is now back playing for Bowie. He was on the seven-day injured list dealing with an illness, but it's over and he is doing fine now. He returned to the active roster on Friday.
"I feel great. Just a good little break, got to hang out and watch the Orioles play a little but I feel great now," Holliday told me before the game.
"It's been awesome being in Bowie. Have enjoyed the whole experience. Now we're getting some of my buddies from Aberdeen up here, So it's been fun."
Last night was Holliday's 12th game at Double-A and he had a couple of infield hits as part of a 4-for-5, two-RBI night. He's now batting .392/.426/.588/1.014 with Bowie. He went 5-for-9 in his first two Bowie games. Last night he hit a solo homer in the fourth and produced his seventh multi-hit outing in a dozen Baysox games.
In 83 games this year starting with Low Single-A Delmarva and then moving to High-A Aberdeen before his jump to Double-A, he is batting .341 with a .995 OPS.
Holliday said Double-A pitchers have been better with their command than what he saw this year at lower levels.
"They throw a lot more strikes," he said of Eastern League hurlers. "Haven't walked a whole lot here. But I've been able to put the ball in play and get a few hits. They definitely throw more strikes and are in the zone more often. But I enjoy the challenge of them coming right at me and trying to get me out. Been a lot of fun."   
Here are some highlights tweets from Bowie last night here, here, here and here.
By accepting you will be accessing a service provided by a third-party external to https://www.masnsports.com/