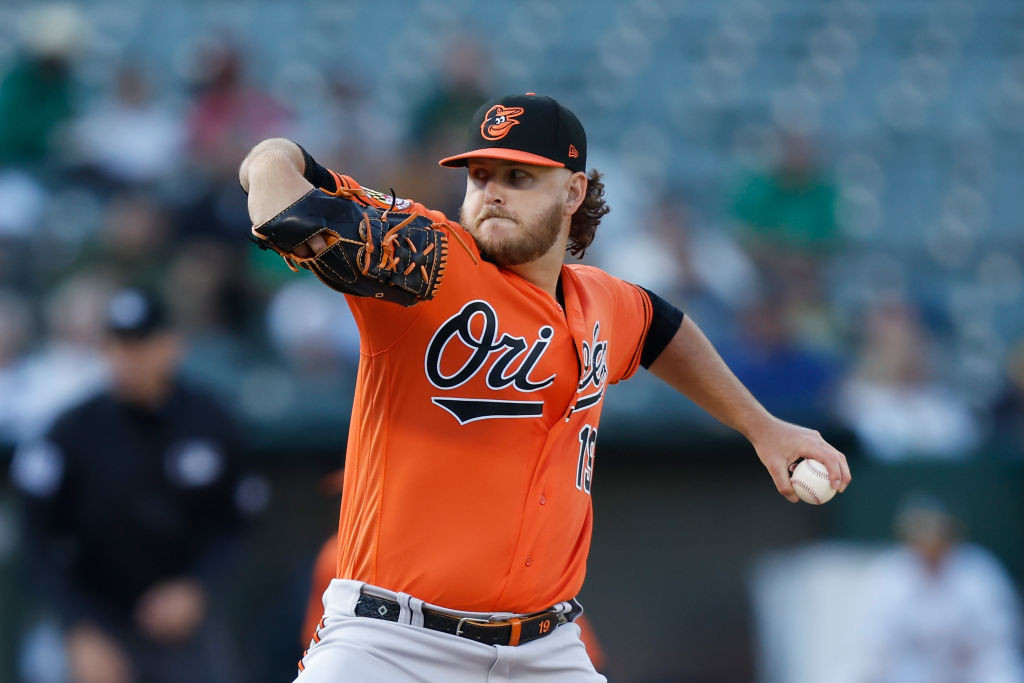 Irvin on return: "The job's not done, so there's plenty of opportunity to maybe share in those festivities down the road"
Cole Irvin watched his Triple-A Norfolk teammates celebrate their Triple-A national championship from afar last night, as he's done with two other clinching games.
Irvin wasn't with the Orioles after they officially made the playoffs and won their division. His only chance to pop some corks happened after the Tides won the International League crown.
"It's part of the game," he said. "The game moves on without you, whether you're there or not, and I'm rooting for this team to do good things. And I was a part of it for a lot of the season. So, it sucks in the moment but at the same time, you want that team to celebrate and you want to win the division.
"The job's not done, so there's plenty of opportunity to maybe share in those festivities down the road, but at the same time, however, we can get those days off, give ourselves a little bit of a break and stay ready and be ready to go for the divisional series, that's part of it."
The Orioles recalled Irvin today, after instructing him to stay off the flight to Las Vegas, and optioned Bruce Zimmermann. He could pitch today in the regular season finale and stick around for the Division Series, whether on the active roster or taxi squad.
"We're in a great spot," he said. "We control our own destiny, get a few days off before the divisional series. Just excited to be back in the room and be a part of something special.
"Happy for the guys in Norfolk. It was a fun night when we won the International League, so just excited for them, excited for this organization. This whole organization is in a great spot."
Irvin could follow starter Kyle Bradish today. Bradish isn't scheduled to throw more than a couple innings.
"I want him to keep his routine going, his pregame routine," said manager Brandon Hyde. "A lot of our bullpen guys will pitch today."
The club is off Monday and will work out the next four days.
"We'll do a lot of like live simulation stuff," Hyde said.
Meetings are ongoing to discuss roster construction, which depends on the opponent. Hyde indicated that the Orioles know how many pitchers they'll carry among the 26 players, but he isn't sharing it.
He's also waiting to announce his Game 1 starter, which is expected to be Bradish.
Asked again about his closer, Hyde said he'll base it on matchups rather than leaning on one reliever. Right-handed hitters are slashing .204/.246/.315 against Yennier Cano and he gets "a ton of ground balls," Hyde said.
The Orioles can carry an unlimited taxi squad, which will include a few extra pitchers and a third catcher.
For the Red Sox
Alex Verdugo RF
Rafael Devers 3B
Justin Turner DH
Masataka Yoshida LF
Trevor Story SS
Wilyer Abreu CF
Bobby Dalbec 1B
Enmanuel Valdez 2B
Connor Wong C
Tanner Houck RHP
By accepting you will be accessing a service provided by a third-party external to https://www.masnsports.com/