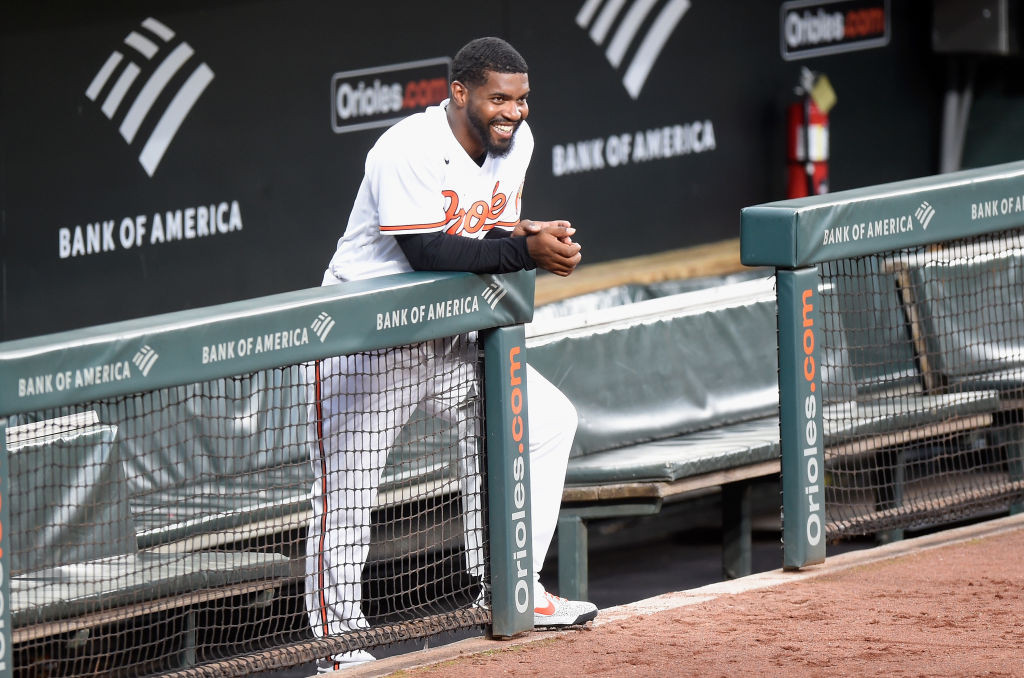 Orioles notes on Givens, Rodriguez, Bautista and more before tonight's game in Sarasota (new lineup)
SARASOTA, Fla. – Orioles reliever Mychal Givens is throwing on flat ground today to test his left knee. His status for Opening Day won't be resolved this quickly.
"Unsure at this point," manager Brandon Hyde said this afternoon.
The bullpen already had a few pockets of uncertainty and Givens is the latest complication. He was a lock until the discomfort surfaced, and he hasn't pitched in a week.
The Orioles have used Givens in four games, holding back his first appearance until March 6.
Grayson Rodriguez has struggled in the fourth inning in his last two starts, and he's allowed six earned runs and nine total with 10 hits in his last two outings covering 6 2/3 innings.
The rotation lines up with Rodriguez as the fifth starter, with his debut coming in Texas, but adjustments can be made prior to the Orioles breaking camp.
"It's another opportunity (tonight) for him to build his pitch count up," Hyde said. "He's had some good moments and he's had some not-so-good moments this camp, but we have huge hopes for him and believe in him."
The importance of getting over that fourth-inning hump can't be overstated, even if it's an exhibition game.
"His last couple outings, the first couple innings have been really good and then some high pitch count innings and balls left kind of middle part of the plate that they squared up," Hyde said. "He's got a really good fastball and changeup. His slider's kind of been in and out a little bit. I'd like to see that slider be effective today."
Félix Bautista didn't complete his assigned inning Monday in Clearwater, retiring two batters and walking the bases loaded. Only eight of 24 pitches were strikes.
Asked what he wants to see from Bautista tonight, Hyde said, "More strikes than that."
"Honestly, if Félix walks off healthy and he's ready to go in a couple days, I'm great with that," Hyde said. "I just want to see him get his work in, honestly."
The Oriole reassigned outfielders Heston Kjerstad and Colton Cowser to their minor league camp after yesterday's 2-1 loss in Dunedin. It was time to ramp up their preparation for the season.
"I just told them how impressive they were and how they both have huge ability," Hyde said. "I thought they handled themselves so well in major league camp, both their first major league camps. Had a ton of production, really good at-bats by both guys. I'm happy with how they played defense, also. I thought they really improved defensively.
"I thought they had great experiences and we have high hopes for those guys. Two really quality people and I thought they handled themselves incredibly well this camp."
Pitchers listed tonight behind Rodriguez include Félix Bautista, Cionel Pérez, Yennier Canó and Reed Garrett. The Orioles brought Nolan Hoffman, Cole Uvila, Morgan McSweeney and Phoenix Sanders from minor league camp.
Also here are infielder Greg Cullen and catcher Connor Pavolony.
The Orioles haven't announced their starters for Sunday afternoon against the Phillies and Monday afternoon's exhibition finale against the Cardinals that airs on MASN. Kyle Gibson starts Friday night versus the Yankees' split-squad and Tyler Wells starts Saturday night against the Pirates in Bradenton.
Vince Velasquez makes his fourth start this spring for the Pirates, all of them against the Orioles. The first three were in Sarasota. He's allowed eight runs and nine hits with six walks in nine innings.
Ramón Urías was scratched from the lineup Daz Cameron is the designated hitter.
For the Orioles
Cedric Mullins CF
Adley Rutschman C
Ryan Mountcastle 1B
Anthony Santander RF
Austin Hays LF
Gunnar Henderson 3B
Jorge Mateo SS
Adam Frazier 2B
Daz Cameron DH
Grayson Rodriguez RHP
For the Tigers
Kerry Carpenter DH
Matt Vierling 3B
Riley Greene CF
Spencer Torkelson 1B
Nick Maton SS
Eric Haase LF
Akil Baddoo RF
Jonathan Schoop 2B
Andrew Knapp C
Tyler Holton LHP
By accepting you will be accessing a service provided by a third-party external to https://www.masnsports.com/