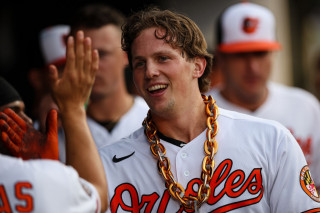 Gibson tosses five scoreless innings with adjusted delivery, Rutschman and Kjerstad homer (O's win 8-0)
SARASOTA, Fla – Kyle Gibson is the first Orioles pitcher to complete five innings.
He looked like a pitcher today who would go first in the regular season rotation.
Gibson shut out the Pirates on three hits and struck out seven batters. He didn't issue a walk.
With only two runs allowed in 14 innings, Gibson is carrying a 1.29 ERA into his final start before the Orioles fly to Boston. He's struck out 13 and still hasn't walked a batter.
"That was probably about as good as my stuff's felt, maybe, in a long time," he said.
Gibson retired the side in order on seven pitches in the first inning, including five to strike out leadoff hitter Oneil Cruz. He had five strikeouts with only two hits allowed through the fourth.
Jack Suwinski led off the fifth with a single and Gibson retired the next three batters on two strikeouts and a popup.
The closest thing to a jam came with Ke'Bryan Hayes' one-out double in the second. Suwinski grounded out and Connor Joe struck out.
"It was the best changeup I've had," Gibson said. "I'd have to go back and watch tapes to see when it felt that good."
"That was great to see," manager Brandon Hyde said after an 8-0 win that concluded with a scoreless ninth from Nick Vespi. "I think he threw 75 pitches (73), right at the mark. Had a really good sinker going, changeup. Off-speed stuff was really good and a ton of strikes."
Gibson tweaked his delivery between starts, trying to be more athletic moving down the mound.
He kept mowing down the Pirates.
"I just kind of felt rigid and stiff this spring so far, but getting myself in a little bit better athletic position really seemed to kind of unlock my legs a little bit and let me move a little bit better," he said.
"I'm a pretty tight-jointed person, so if I can get myself in a spot where I'm a little bit more relaxed as I'm moving down the mound, then that kind of gives me a little bit more mobility moving down the mound. So, just bending my knees a little bit and kind of feeling like I'm just in a more athletic position to start the delivery.
"In the past that's been a big help, and this time through it was the same."
Gibson was paired today with Adley Rutschman for the first time besides bullpen sessions.
"I kind of told these guys early on, 'Hey, I'm going to have a PitchCom and if you want me to walk through an at-bat, I can, or if you want to walk through an at-bat and I'll just hit a button if I just have to shake once.' But he was good," Gibson said.
"I don't know if he's talked to (James) McCann or anybody else, but he kind of has a really good idea of how my stuff plays and how it's working, and we're on the same page for the most part."
Gibson averaged a career-low 2.6 walks per nine innings last season with the Phillies, and no one has reached on a free pass this spring.
"I think, just talking to multiple guys, when you have a team that picks it like these guys, you've got to give them a chance, right?" he said. "I think I got 3-1 or 3-0 on a couple guys and just, OK, here's a couple heaters in the zone and hopefully they hit it on the ground and let them field it. Just trying to have confidence in those guys and making sure I give them a chance."
* Rutschman hit his third spring home run in the bottom of the first, clearing the center field fence after Adam Frazier's leadoff single. Heston Kjerstad clubbed his fourth in the second inning, a monster two-run shot to center that veered to the right side of the batter's eye and gave the Orioles a 5-0 lead.
The homer left Kjerstad 14-for-34 (.412) with seven extra-base hits in 20 games. He was robbed of a hit later the game by a diving catch in left-center. Another ball that he tattooed.
"Just having a solid approach and keep executing it well," he said. "When I get my pitch, being able to put a good swing on it and put it in play hard. Hopefully, keep that rolling."
"He had really good at-bats," Hyde said. "It's fun to watch him. Couple nice plays in the outfield, as well, but how hard he can hit the baseball, it's loud coming off the bat." 
We didn't get a measurement on Kjerstad's homer, but it rivaled the ball he hit in North Port that slammed off a building beyond the right field fence.
"The one with the Braves was a little bit more pull-side," he said. "I liked the one to center a little bit better, but they're both … home runs are home runs. No matter how far it goes, as long as he gets over the fence I'll take it."
Colton Cowser drove a ball 476 feet to center field in Fort Myers that cleared the batter's eye. Kjerstad was on the trip but missed it.
"Daz (Cameron) just hit his and I was high-fiving him," Kjerstad said. "We heard a loud crack, we turned around. We knew it was going to center field. 'Where did that go? It went over it.' That was a good piece that he had the other day. It was awesome."
Kjerstad has remained with the Orioles longer than perhaps expected for a player in his first full major league camp and likely going to Double-A Bowie.
"Shoot, I haven't even really thought about that," he said. "I just keep showing up one day at a time and just enjoying it. Showing up every day and just finding a way to get better. Enjoy it and have fun."
Gunnar Henderson was 3-for-23 before grounding a single up the middle in the first. He had hits in his last two at-bats, and he walked in the fifth after Ryan Mountcastle's leadoff double.
The Orioles loaded the bases with two outs in the fourth, but Rutschman flied to center. Jorge Mateo had a single and stolen base after drawing a walk in his previous plate appearance.
Vince Velasquez was making his third spring start for the Pirates, all of them at Ed Smith Stadium.
Nomar Mazara singled in the second and had a two-run double in the fifth. He scored on Ryan McKenna's single for an 8-0 lead.
Bryan Baker tossed a scoreless sixth inning and Joey Krehbiel retired the side in order in the seventh. Krehbiel hasn't allowed a run in his last four appearances.
Mike Baumann, again embracing his short-relief role, struck out two in a scoreless eighth.
"Even that walk, there were a couple close misses there," Hyde said. "Aggressive, trying to get ahead early, and on the attack from the first pitch. He's got really good stuff, so a good outing by him."
* Over in Tampa, Tyler Wells allowed one run and five hits with no walks and three strikeouts in 3 2/3 innings against the Yankees. He threw 71 pitches, 48 for strikes.
Spenser Watkins allowed one earned run and two total in four innings in a 5-3 win.
Anthony Bemboom hit a three-run homer. Cameron tripled. Franchy Cordero had two more hits and is batting .515.
* Today's attendance was announced at 5,165 and included 15-year-old Christopher Neher of Palmetto, Fla., a special guest of the Orioles through the Casey Cares Foundation.
Neher, diagnosed with cystic fibrosis, is a junior varsity baseball player on his high school team. The Orioles arranged VIP seating for Neher and his family.
Casey Cares Foundation is a Columbia-based nonprofit that provides uplifting programs for critically ill children and their families. The organization serves more than 150 families across Florida alone, and the Orioles have partnered for more than 10 years.
By accepting you will be accessing a service provided by a third-party external to https://www.masnsports.com/