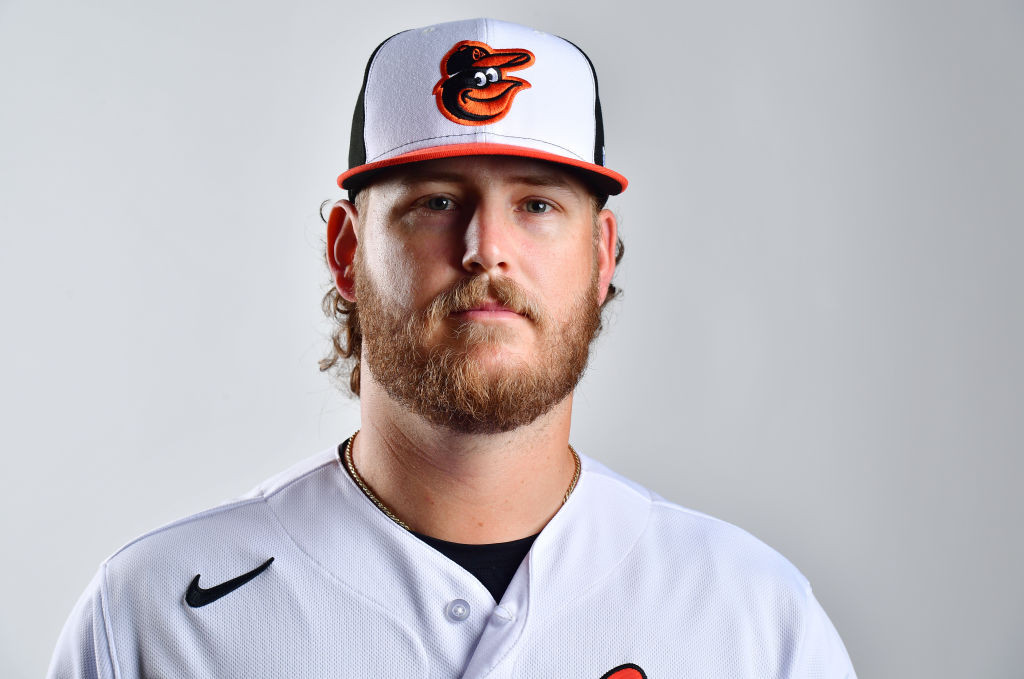 Irvin pleased with latest start, Cordero collects three more hits, Hall pitches in simulated game (O's win 7-4)
SARASOTA, Fla. – Cole Irvin became the first Orioles pitcher to exceed four innings tonight, going 4 1/3 against the Blue Jays in his return to the Grapefruit League.
Irvin stayed back in camp Saturday while the Orioles traveled to Dunedin, doing his work on the Camden Yards field.
There's no roster drama for Irvin. All that's left is to find out where he slots in the rotation.
Irvin allowed two runs and six hits, with no walks and three strikeouts. He threw 66 pitches, 47 for strikes, before Joey Krehbiel entered and retired both batters that he faced in the fifth.
The first four batters reached against Irvin, and the Jays took a 2-0 lead. The first out came when cleanup hitter Nathan Lukes tried to stretch his RBI single into a double.
Leo Jimenez led off with a ground ball inside the bag for a double and he scored on Addison Barger's bad-hop single over Ryan Mountcastle's head.
"Threw some pitches that I'm trying to work on, attacking hitters with some new stuff," Irvin said. "I made a small adjustment later in the game. But younger guys attacking fastballs is really all it is. They found lines and that's the name of the game. You'll find that at every level.
"Just stuff that I'm working on. Curveball that just stayed inside the bag. I think it surprised everyone, even the hitter. Surprised (James) McCann, myself. … It's just part of the process. Those innings are good to get through and work through. Still came out of that at 20 pitches or less (18). Was able to get out of some damage spots and made good pitches."
Irvin stranded Zach Britton in a 20-pitch second inning after a leadoff single, and he retired the side in order in the third on 12 pitches – including eight to Lukes before coaxing a ground ball.
Rainer Nunez led off the fourth with a single and kept motoring to third base as the ball skipped past left fielder Franchy Cordero. Irvin retired Rob Brantly on a soft liner to shortstop Jorge Mateo and Britton on a ground ball, and he fielded Wynton Bernard's roller near the mound.
"I got a lot of ground balls on a lot of fastballs and some good pitches," Irvin said. "I'm actually really happy with what I saw."
Manager Brandon Hyde brought back Irvin for the fifth, and the lefty struck out Andres Sosa on three pitches. One more "up" before calling it a night.
"It was great," Irvin said. "Ball felt good, and getting my fifth up is always a good thing, especially on a 70-pitch limit."
"Ton of strikes," Hyde said following a 7-4 win over the Blue Jays. "Young guys were aggressive on him early. I thought he threw the ball well. Got a couple ground balls that kind of went through there that first inning, but I thought he really settled down nicely. The off-speed stuff worked well. Nice to get him back out there for the fifth inning."
Irvin has appeared in three games and allowed three runs and 10 hits in 9 1/3 innings. He's walked one batter and struck out six.
The experimenting and toying are subsiding as Opening Day approaches.
"These next couple starts leading up to the season are full-tilt now," he said. "It's attacking lineups and getting ready for the season. I'm done kind of playing around. This is kind of the last start I can actually do that."
* Cordero followed Ramón Urías' one-out single in the second with his own single, a line drive into right-center field, and he stole second base. Cordero led off the fourth with a double and added a two-out RBI double in the fifth, making him 14-for-26 with seven extra-base hits this spring as he tries to win a bench job backing up at first base and in the outfield corners.
Nomar Mazara bounced a two-out, two-run single into right in the second to tie the game 2-2. Mazara was 3-for-23 with one RBI before the at-bat.
Austin Hays broke the tie with his team-leading fourth home run, a two-run shot to deep left-center field in the third inning. Ryan Mountcastle had singled with one out.
Hays also had a run-scoring double in the fifth after Mountcastle singled again and Kyle Stowers tripled.
The Mountcastle-Hays duo stays hot. Mountcastle is 11-for-26 with five doubles, a triple and a home run, and Hays is 9-for-22 with 10 RBIs.
Josh Lester came off the bench and singled in the seventh. He's 13-for-32.
Mychal Givens stranded two runners in the sixth, striking out two batters in the process. Keegan Akin struck out two in a scoreless seventh and hasn't allowed a run in six innings. Mike Baumann retired the side in order with a strikeout in the eighth.
Hyde limited Baumann to one inning rather than stretching him out as a starter.
"Right now we're going to take a look and see him in more of a short-relief role," Hyde said. "That was impressive tonight. High-90s fastball, a good slider, cutter. Right now we're taking a look at kind of a shorter spurt for him."
Nick Vespi made his second spring appearance and allowed two runs in the ninth.
* DL Hall threw his two-inning simulated game this afternoon on the Camden Yards field, totaling 42 pitches while facing Heston Kjerstad, Mark Koloszvary, Daz Cameron and Maverick Handley.
Adley Rutschman caught Hall's bullpen session and the sim game.
Fourteen of Hall's 16 pitches in his second inning were strikes. He got Kjerstad swinging and looking.
The Orioles stretched out Hall to 26 pitches in the first. Pitching coach Chris Holt stood behind a protective screen and called balls and strikes. More than three "outs" were recorded.
Executive vice president/general manager Mike Elias, manager Brandon Hyde, assistant pitching coach Darren Holmes and head athletic trainer Brian Ebel watched from behind the backstop.
Hall's next appearance could mark his Grapefruit League debut. He won't be stretched out to start when the Orioles break camp.
"We're going to kind of see how it goes from there (sim game)," Hyde said. "Hopefully, in three or four days after that."
Reed Garrett threw a simulated inning today, allowing Hall to rest.
By accepting you will be accessing a service provided by a third-party external to https://www.masnsports.com/