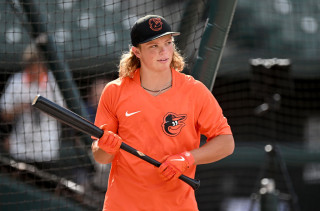 Jackson Holliday is named Orioles' Minor League Player of the Year (updated, plus the other winners)
After a season when he rose to No. 1 in prospects rankings and has already been named Baseball America's Minor League Player of the Year, today shortstop Jackson Holliday was named winner of the Orioles' Brooks Robinson Award as the organization's Minor League Player of the Year for 2023.
The Orioles named right-hander Chayce McDermott the recipient of the Jim Palmer Award as the club's Minor League Pitcher of the Year. Norfolk manager Buck Britton won the Cal Ripken Sr. Player Development Award. Dave Jennings won the Jim Russo Scout of the Year award.
Holliday has played at four levels in the 2023 season, beginning the year at Single-A Delmarva and later moving to High-A Aberdeen, Double-A Bowie and Triple-A Norfolk. He ended the regular season with Norfolk and will play with the International League champion Tides tonight against Oklahoma City, winners of the Pacific Coast League title, in the Triple-A Championship game in Las Vegas.
Over 125 games this year between the Shorebirds, IronBirds, Baysox and Tides, Holliday, 19, has hit .323/.442/.499/.941 with 30 doubles, nine triples, 12 homers, 24 steals, 154 hits, 101 walks, 113 runs and 75 RBIs.
"Yeah, I've got no complaints," Holliday said via a Zoom call today with reporters about his remarkable season. "This year has gone about as well as I could possibly imagine. My goal was Double-A, and to make it to Triple-A is quite something. It's been quite a year."
He leads all of minor league baseball in runs, is fifth in on-base percentage, tied for fifth in walks and ranks 11th in hits.
In 14 games back in April with Delmarva, he hit .396 with an OPS of 1.182. Over 57 games with Aberdeen, those numbers were .314 and .940. He then hit .338 with a .928 OPS in 36 games with Bowie and has batted .267 with a .796 OPS for Norfolk.
Now Holliday has set a goal to make the Opening Day O's roster out of spring next season.
"I'm in a different position than last spring training. Last spring was awesome and such an unbelievable experience I don't think I would be here without it," he said. "But it's definitely going to be a little different next year, having a chance to hopefully make the club out of spring is my goal. If that doesn't happen, whatever is the plan, I'll be ready for it."
Holliday, who also played in the All-Star Futures Game in July representing the Orioles, was the No. 1 overall pick in the 2022 MLB Draft and had a remarkable first full minor league season.
McDermott pitched this year at both Double-A and Triple-A, going a combined 8-8 with a 3.10 ERA in 26 games. Over 119 innings he gave up just 69 hits with 68 walks and 152 strikeouts. He allowed a .167 batting average against with 1.15 WHIP.
McDermott was a two-time International League Pitcher of the Week, earning the honor in back-to-back periods from July 24-30 and July 31-Aug. 6, and won the organization's Pitcher of the Month in August.
He is ranked as the club's No. 10 prospect by MLBPipeline.com and No. 14 via Baseball America. 
McDermott talked about the award and his strong season on today's Zoom call.
"It's awesome. Just being able to go out there everyday and kind of prove myself a little bit and get recognized for it, it's been an amazing journey," he said. 
"For me this year a key was just simplifying the game. In the past, I was thinking about 15 different things when you are throwing one pitch. Makes it hard to execute. So tried to simplify the approach this year and go at hitters."
The 25-year-old righty was acquired in the three-team deal that sent Trey Mancini to Houston on Aug. 1, 2022. The Astros drafted him in round four in 2021.
McDermott went 5-6 with a 3.56 ERA in Bowie and has gone 3-2 with a 2.49 ERA and 1.01 WHIP in 10 games with Norfolk. He allowed just two runs over 12 innings in his last two regular-season starts.
Britton led Norfolk to a club record 90 regular-season wins. The Tides beat Durham two games to one to win the International League title and the right to play in Las Vegas tonight. The Ripken Sr. award is named for the late Orioles coach and manager who is widely regarded as the architect of "The Oriole Way." This year 31 players played for both Norfolk and Baltimore. 
After many years with the O's as a player, minor league coach and manager, Britton was asked today what it means to him to have the organization going so strong right now.
"It is pretty amazing how it has come full circle these last four of five years," he said. "And to see it with a lot of our homegrown guys. Watch them have success together and win together, it's been a real joy. And I think we are set up to have this continue." 
Britton also earned this honor in 2021, when he was the manager with Bowie, and became the third multi-time recipient since the award's inception in 2003, joining Mike Griffin (2009-10) and the late Ron Johnson (2015, 2018).
Jennings has been in the organization since 2002, proving to be an important member of the Orioles' scouting operations as he patrols Alabama, Louisiana and Mississippi. Some of his recent signees include Gunnar Henderson, who today was named the Most Valuable Oriole. He also signed Jordan Westburg, Hudson Haskin, Reed Trimble and Collin Burns, as well as former O's Kevin Gausman, Matt Wieters and Nick Markakis.
By accepting you will be accessing a service provided by a third-party external to https://www.masnsports.com/