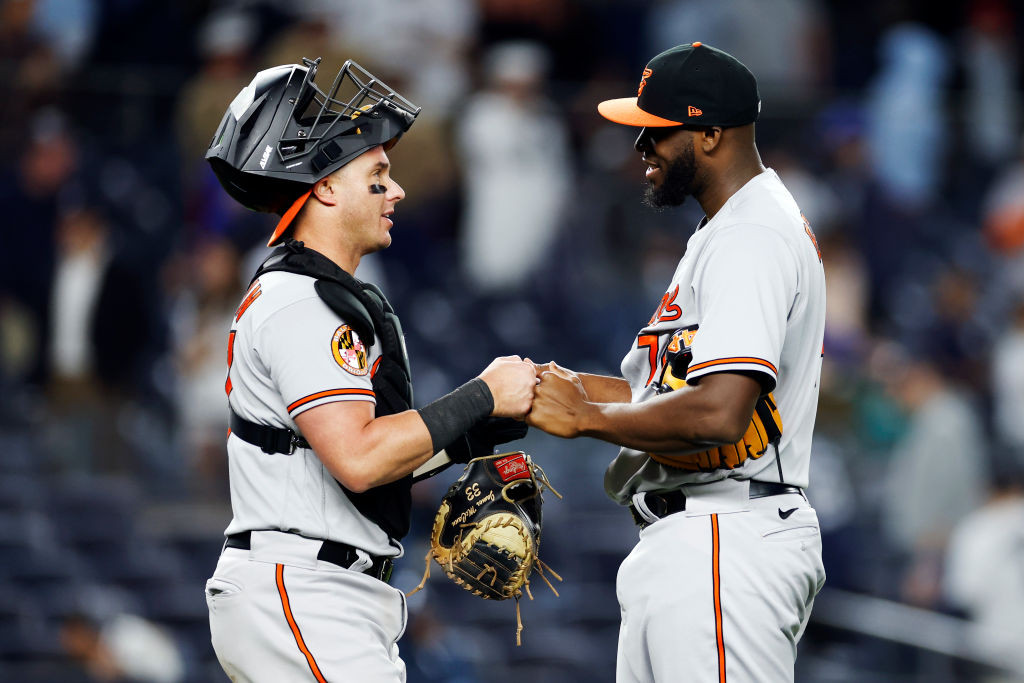 McCann on clubhouse chemistry: "We have guys who truly love each other and truly want the best for each other"
Trade deadlines in the Orioles' rebuild kept players on edge, wondering if they were headed out the door or which teammates and friends might beat them to it. They checked social media posts and read the transaction scrolls on television, which alerted a few, like second baseman Jonathan Schoop, who hadn't heard from the team or an agent after arriving in the visiting clubhouse at Yankee Stadium.
The teardown in 2018 wiped out the best players. Trey Mancini and Jorge López were dealt last summer with the Orioles in contention, the postseason odds much lower than in 2023.
Life on the buyer side isn't as anxious.
Executive vice president/general manager Mike Elias spoke last week of the balance between aggression and caution. Of the willingness to reach in the right trade, but the refusal to torch a farm system that is fueling the resurgence.
Elias didn't dismiss the possibility of trading from the 26-man roster but wasn't enthused about it. He doesn't want to mess with a good thing – a group that's responsible for the best record in the American League and wants to stay together.
"We bring somebody in from the outside, somebody's got to go," Elias said on Friday. "We're only allowed to fit 26 guys in that room, so there's that to keep in mind. This group's really tight, it's been working really well together. There's excellent chemistry in this group right now. So, you've got to keep that in mind, too. But I think if we make the right kind of move, it will help this team, and if the guys in that room like the move, I'm sure they'll be excited. But that clubhouse is a big asset for us.
"We've got as good of an environment as I think you'll find, and I can't imagine that's not helping us win this year."
Players are convinced of it. They say chemistry matters, that it's impacting their record and chances of being in the World Series. Talent alone wouldn't carry them to a pennant.
"It's been great," said reliever Danny Coulombe. "I saw an interview the other day with (James) McCann saying this is just a really unique clubhouse and it's like the best clubhouse he's been in, and I agree. It's just, everybody pulls for each other. There's not a lot of egos. There's just a lot of guys trying to have fun and playing hard."
McCann talked about the camaraderie on a recent "O's Xtra" segment on MASN. How it's a "huge piece" of their success.
How the clubhouse operates in a manner that isn't common.
"There's not one bad dude," he said. "On every team there's those guys that, I don't like to say are bad people, but just don't fit the vibe of the rest of the clubhouse. We don't have that guy. There's not that one guy that stands out. There's not the salty veteran that you try to stay away from. There's not the selfish player that you just can't stand. We don't have anybody like that.
"We have guys who truly love each other and truly want the best for each other. Pulling for each other every single pitch. So, I do think from a front office standpoint, they know that, obviously. They assembled this team and it's not a coincidence as to the individuals that they brought in this locker room. I'm sure that goes into some of their thinking, as well."
Elias wants a middle reliever to join Shintaro Fujinami, and he's been talking to clubs about available starters, trying to find one before the board is empty.
Players understand the reasoning and support the effort. Just make sure that a newcomer knows how to blend.
The sailing has been smoother than expected. Don't rock the boat.
"I always say our chemistry right here is amazing," said Anthony Santander. "Bringing in somebody will have to have our personality, the same chemistry we have right here. We need the right guy. The leadership, be able to pick up a teammate. That will be great, more than what he can provide for us to win games."
Jordan Westburg came out of last night's game after the bottom of the fifth inning, the defensive switches moving Adam Frazier from left field to second base. Westburg stayed in the dugout. No one hugged him.
The deadline can create tension and false assumptions. Westburg wasn't packaged for a pitcher.
Credit goes to the Orioles for boxing out the distractions.
"I think the players are just more focused on the game," Coulombe said. "We can't control what (Elias) is going to do. I think we get both sides of it. We just want to win, and we want the best opportunity to win. So, we're just going out there and trying to control what we can control, which is the game and how we perform."
"It's an exciting time," McCann said. "It's one of those things where every time you turn on MLB Network, you turn on the radio, whatever you're hearing about the trade deadline, you're seeing moves that other teams are making. Obviously, we hear rumors, we talk about it, but at the same time there's that balance of just staying locked in and focus on what we can control.
"As much as it's fun to follow, we still have a job to do, and that's to play the game."
By accepting you will be accessing a service provided by a third-party external to https://www.masnsports.com/