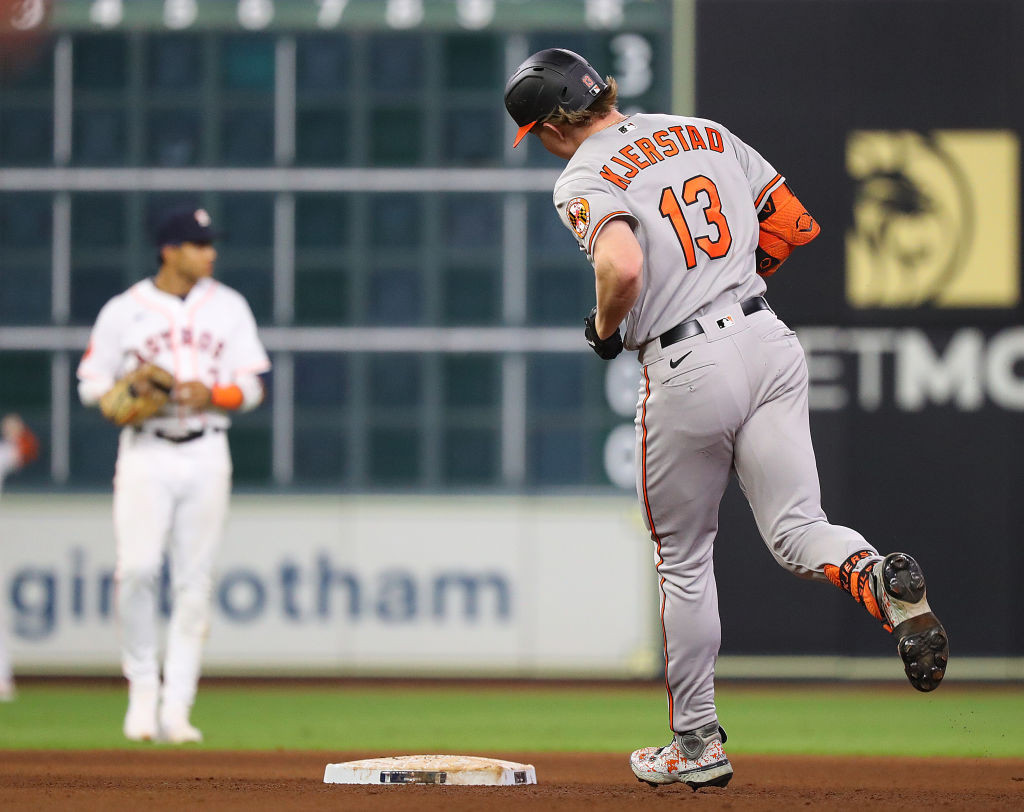 Kjerstad on O's player development: "They have a great eye for talented hitters and a great way of developing us"
On this day a year ago - Sept. 20, 2022 - Heston Kjerstad went 1-for-4 with a triple and three RBI's for High-A Aberdeen in the South Atlantic League Championship Series. He would lead the IronBirds to a win and to a third and deciding game of the SAL final series that they would not win.
And for Kjerstad, who now has five games and 13 major league plate appearances under his belt, with two homers, hitting his second last night, his story includes his bout with myocarditis, one that delayed his minor league debut. But once he got started, he moved fast.
Kjerstad made his O's professional debut with Low Single-A Delmarva on June 10, 2022, and ended the year with Aberdeen in the playoffs, before he tore up the Arizona Fall League. That led to beginning this year with Double-A Bowie, moving to Triple-A Norfolk and now making the majors. It all happened in a span of just over 15 months from that first game with the Shorebirds.
In a clubhouse interview Sunday morning, I reminded him that this time last year he was playing for Aberdeen in the SAL Championship Series.
"Definitely been awesome," Kjerstad said. "Been a lot of different places on different teams over the past year. Definitely pumped now to be here. It's been a real journey and really excited now to get things rolling up here and be part of a team that is this special."
In 2022 it all started at Low-A and when he reached Aberdeen last July 13, he did not light it with an OPS of .674 in 43 games.
"That (2022) season kind of got my feet under me after not playing for a while and missing a lot of time. But going into the Fall League after a strong finish to the season, I tried to keep it rolling. Then rolled that into spring training and just throughout this year. Just tried to get better every day. It keeps compounding and now hope to keep improving."
While he had modest stats at Aberdeen, the 2022 season remember was his first in pro ball after over two years first dealing with myocarditis and then a 2022 preseason hamstring injury.
By year's end then he was started to swing it well at Aberdeen, going 7-for-16 the last four regular season games. Then he showed some pop in six playoff games, going 6-for-23 with two doubles, a triple and six RBIs.
Then he was MVP of the Fall League and ended his year on a big note. Then he started this year on a big note, batting .381 with four homers and an OPS of 1.219 in O's big league spring training. He was hitting balls a long way under the Florida sun and opening some eyes. 
"It was big," Kjerstad said of his spring with the big club. "After having an offseason, you want to get rolling and see some things you tried to work on in the offseason start working for you. To play like that was good for me to see what I am capable of. I could even raise the bar a little higher for myself after that spring."
He rolled that spring performance into a big year for Bowie and Norfolk, batting a combined .303/.376/.528/.904. He moved up the top 100 prospect rankings, now at No. 44 via Baseball America and No. 24 MLBPipeline.com.
I asked Kjerstad in what way his offense has improved this season?
"Honestly just taking care of a hitter's pitch when I get it. They make a mistake, make sure I take care of it. There were things they talked to me about – exit velocity was one – that I have improved year-over-year. Just every day the main thing for me is compete every at-bat," he said.
Kjerstad is one of many success stories for an O's farm system ranked No. 1 in baseball. Just what do the O's do so well with their hitters on the farm?
"I think it starts with they are really good with the players they pick. With their eye and who they are interested in. From there, they take guys that are already good and make them even better as they work with us through the minors. They have a great eye for talented hitters and a great way of developing us. It's a good system to be a part of for sure," he said. 
Another win in Houston: The Orioles won another series last night, beating Houston 9-5 and can sweep this three-game series later this afternoon. The Birds hit four homers in the win, with Kjerstad and Ryan O'Hearn connecting and Austin Hays hitting two.
It's the fourth time this year the Orioles have hit four or more homers in a game with a season-high of six on July 9 at Minnesota.
Last Tuesday through Friday, the Orioles lost four in a row scoring just six total runs. Now, since Saturday, they have won four in a row, outscoring Tampa Bay and Houston twice each by 30-16.
Their AL East lead remained 2.5 games as the Rays also won last night, but the O's magic number to win the AL East dropped to eight. 
The Orioles are 7-1 in Houston since the start of the 2021 season. 
By accepting you will be accessing a service provided by a third-party external to https://www.masnsports.com/