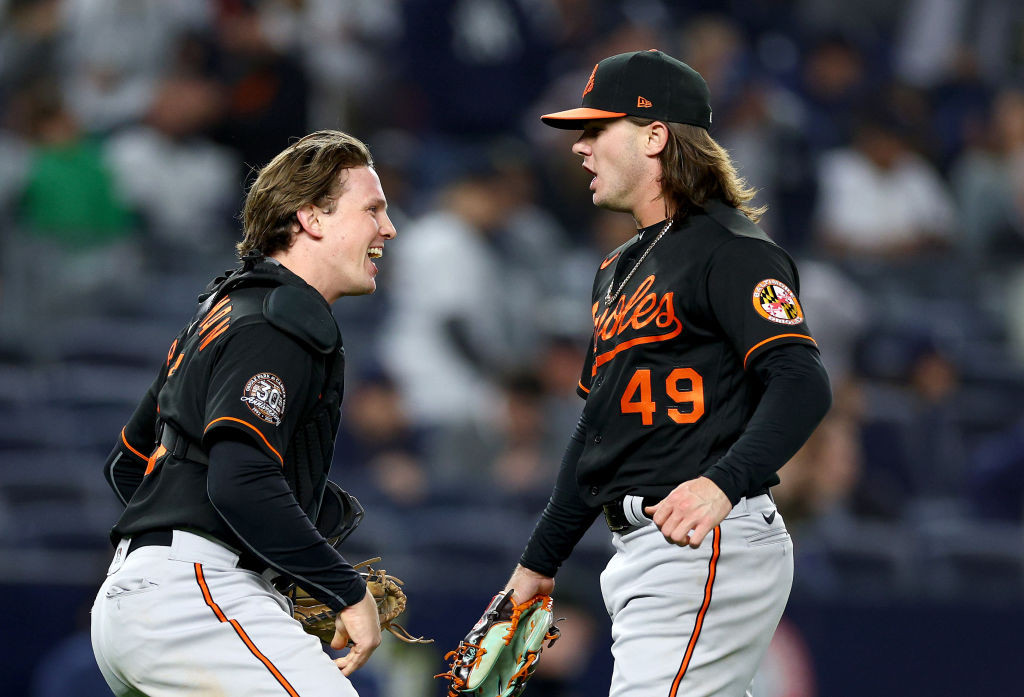 Hall earns first save and Orioles keep Judge homerless while guaranteeing non-losing season (updated)
NEW YORK - The night didn't belong to Aaron Judge.
The Orioles kept him homerless and savored their own achievement. Modest in comparison to Judge's pursuit of a 61-year-old record, but hugely important to them.
Manager Brandon Hyde has kept prodding his team to "finish." It will do so without a losing record.
Jordan Lyles tossed seven-plus innings of one-run ball, the go-ahead run for the Orioles scored on a wild pitch, and they gained their 81st victory by defeating the Yankees 2-1 in the Bronx before a sellout crowd of 47,583.
The Orioles still want to stay above .500, but for now will settle for the first non-losing season since 2016. They won't know whether they remain in the wild card hunt until the Mariners are done later tonight.
Update: The Mariners posted a walk-off win over Oakland that eliminated the Orioles. 

"It just means that we exceeded expectations, and that our guys fought all year long and we're not done yet," Hyde said. "Just really happy with the effort with these guys all year. We've proven a lot of people wrong around the league and in sports. I think there's a lot of appreciation for what these guys have done this year from around the league, and it's well deserved."
DL Hall earned his first save in his 10th major league game by retiring the side in order in the ninth inning - Giancarlo Stanton, Marwin Gonzalez and Oswaldo Cabrera, the last two on strikeouts. He was one of the last available relievers for Hyde because Félix Bautista had a sore left knee.

"Unbelievable," Hyde said. "I was just trying to throw stuff at a great team and a great lineup, and DL came through with some great changeups, mid-to-upper-90s fastball. He was excited to be out there. You could tell. And he came through."
"I think the biggest thing for me is not trying to fight the nerves as much as just kind of using it to fuel you and kind of riding the wave," Hall said. "I look at it as, it's a storm and you've just got to embrace the storm and use it to get you going."
Working on short rest after a two-inning start in Boston, Lyles completed the seventh on 104 pitches and came back out for the eighth. Try closing the book on him and he'll push it back open.
Isiah Kiner-Falefa singled two pitches later and Bautista entered for the first time since Sept. 24. Kiner-Falefa stole second base and Bautista issued an intentional walk to Judge with the count 3-0.
There have been more popular decisions here.
The crowd already was agitated after Hyde, pitching coach Chris Holt and head athletic trainer Brian Ebel came to the mound at 2-0. Bautista felt the discomfort in his knee and did a series of lunges that carried him near second base. He stayed in the game, missed the strike zone again and surrendered to Judge.
Anthony Rizzo struck out and Gleyber Torres lined out to Cedric Mullins to preserve the 2-1 lead.
"It's nothing serious," Bautista said via interpreter Brandon Quinones. "I think what happened is, one of the pitches that I threw, when I landed I just felt a little discomfort in my knee. I don't really know how to explain it other than, when I threw the pitch and I put force on my leg and landed, it just felt a little off."
"His knee was sore and he wanted to finish the inning," Hyde said, "so we allowed him to finish the inning."
What's it like to stretch and warm up while a capacity crowd jeers?
"It feels cool, actually," Bautista replied, "but to be honest, I wasn't focused on that. I was just focused on getting the hitters tonight."
Hyde went to the mound and talked to Bautista as Judge came to the plate. First base was open, just as Hyde predicted would happen in the series. They discussed how to attack him.
"It'll probably happen four more," Hyde said. "I just know how this game works, I know how we play. We don't score a ton of runs, so I feel like that situation comes up a lot. But listen, he is a great, great player, one of the greatest players of my lifetime, and to have the year he's having, we're trying to win a game, also. So, I have a lot of respect for him."
Bautista, who was shut down earlier with arm fatigue, said he expects to pitch again over the last five games and could have returned for the ninth.
"They stopped me from coming out due to what happened," he said.
Hall retired Stanton on a foul popup and registered strikeouts on a changeup and 96.4 mph fastball.
"It was good, it was really exciting," Bautista said. "I gave him my support, and it was really good to see him go out and finish it."
Hall warmed a few times and didn't think he would pitch.
"Once I saw Félix have a little bit longer inning, I was like, maybe there's a chance, but I had already sat down," he said. "Once they told me to get up and he told me I was in the game for the ninth, I was a little shocked but I was super excited for the opportunity. I feel like big situations like that, you can really learn and grow from it."
Said Lyles: "I'm a big believer in, when a huge situation is in front of you, that is when you play at your best, as opposed to his debut. He had a handful of days to think about it in Tampa. ... I shook his hand afterward, everyone is so proud of him, and hopefully he can build on it."
Hall cleaned up and then needed to do it for himself after teammates celebrated his achievement in the usual manner.
"A lot of high-fives, of course," he said, "and I got the cart shower and things like that for my first big league save. It was awesome."
Adley Rutschman threw an arm around Hall's shoulder after the final out and walked him toward the back of the infield for the handshake line.
"Big situation, and DL really stepped up," Rutschman said. "Just seemed like a big situation, he kind of stepped up his game a little bit, and that's the pitcher that everyone knows he can be. It was cool to see him just go out there no fear, just a lot of confidence and swag and the way that he carried himself. Just really cool to see him get that save."
Lyles allowed one run and four hits and struck out nine batters.
"For me, that was Jordan Lyles' best game," Hyde said. "With this environment, every ball they're booing. I get it. They wanted to see something special and it's understandable as a baseball fan, but he's trying to get him out. He attacked him. I thought he threw some really good pitches all night. And for him to not let the moment get to him and be able to go into the eighth on a night that he knew we were very short in our bullpen, against this lineup with this type of crowd, and make one mistake on the night, that was an amazing performance."
Beyond studying the reports compiled on the Yankees hitters today and meeting with Rutschman, Lyles had an important question for Hyde. One that is pertinent only when an opposing player is on the cusp of making history.
What happens if Judge hits his 62nd home run to break Roger Maris' single-season record in the American League?
Lyles didn't know whether the Yankees intended to honor Judge right away. If there would be a delay which impacted Lyles on the mound.
Judge ran the count full in the first inning and chased a sinker for the strikeout. He sent a bouncer up the middle for a two-out single in the third, and Austin Hays raced toward the line and made a sliding catch to rob Rizzo.
Lyles walked Judge with the count full leading off the sixth. Of course, the crowd booed him.
It fell silent after Lyles struck out the next three batters.
"It was awesome," Lyles said. "The atmosphere here at the stadium, so many people, first batter of the game, it's go time. Everyone knows what's going on and the situation. I throw the first pitch and then I kind of settled down, and then it's the next batter. It was fun. It was an amazing atmosphere, probably not an empty seat out there. Us players, we get up for those types of games. It was fun."
"After every swing, you could hear an audible gasp," Rutschman said. "The whole, entire crowd, every time he swung, just a big buildup, so that was pretty cool."
Lyles retired 12 of the first 14 before Cabrera led off the fifth inning with a game-tying home run. The ball traveled 368 feet to right field, an out anywhere else, per Statcast.
Cabrera had the last hit off Lyles until Kiner-Falefa's single. He had retired nine of 10.
"I'm more proud of the win," Lyles said.
Hays' leadoff double in the second was the last hit for the Orioles before Rougned Odor singled off Aroldis Chapman with two outs in the eighth and was picked off. They walked four times in the sixth while taking the lead.
Rutschman and Anthony Santander began the inning with walks, Germán knocked down Ryan Mountcastle's comebacker and threw him out, and manager Aaron Boone signaled for former Orioles closer Zack Britton, who walked Gunnar Henderson to load the bases.
Jesús Aguilar pinch-hit for Terrin Vavra, and Britton fired a sinker to the backstop to break the tie. His velocity was down in his third appearance since undergoing Tommy John surgery on Sept. 9, 2021, and he walked off the mound with an athletic trainer. The Yankees announced that he had left arm fatigue.

Ron Marinaccio struck out Aguilar, walked Hays to reload the bases, and struck out Kyle Stowers with the count full.
Mullins drew a leadoff walk against Domingo Germán in the first inning, stole second base with two outs, hustled to third on catcher Jose Trevino's throwing error and scored on Mountcastle's single.
Mullins had two stolen bases tonight to give him 34, tied with Jorge Mateo for the American League lead. He was stranded on second base in the seventh.
Hays doubled in the second and Germán retired the next 12 batters. Harrison Bader made a lunging catch on the left-center field warning track to deny Mullins in the fourth.
Germán was 6-0 with a 2.28 ERA and 0.923 WHIP in eight career games against the Orioles. He came out tonight after 78 pitches and was charged with two runs and three hits in 5 1/3 innings.
He lost for the first time while facing the Orioles.
Judge will get another crack at them on Saturday. The .500 or better 2022 Baltimore Orioles.

"The Yankee fans were looking for something else," Lyles said, "but we've got a young and talented team and we care about winning, we care about supporting the next person, and we did a good job nine innings' worth."
What does .500 mean to him?
"It means I was a part of it, a part of this transition this organization is going through," Lyles said. "Myself and a couple other veteran guys, we take pride in helping the young guys. We've got a lot of young and talented guys here. Excited, happy, fortunate to be a part of it. Us older guys, we might not be here in the future, but this organization, the city of Baltimore, definitely is in good hands."
By accepting you will be accessing a service provided by a third-party external to https://www.masnsports.com/