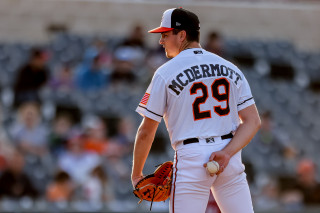 It has been an interesting last 13 or 14 months for Orioles Triple-A pitcher Chayce McDermott. Last Aug. 1, he was acquired from Houston in a three-team trade that sent Trey Mancini to the Astros. Houston had drafted McDermott in 2021 in round four out of Ball State.
This season he advanced from Double-A to Triple-A in mid-July and ends his first full season in the organization named Saturday as the O's Minor League Pitcher of the Year, winning the Jim Palmer Award.
Ranked as the club's No. 10 prospect by MLBPipeline.com and No. 14 via Baseball America, MLB Pipeline ranks him as the club's top pitching prospect.
Late last season his life was uprooted by the trade, but this season ends with the Palmer award. Joining the Orioles has proven to be huge for McDermott, who turned 25 Aug. 22.
"I think people overlook sometimes that getting traded is very hard," he said Saturday after the announcement of his award. "You get used to an organization and then you pick up and move. Meet new people, new coaches. But I feel like it was a super smooth transition, super easy. I love everyone in the Orioles organization, and they have been super helpful in my career. Now it just feels like I am part of the family."