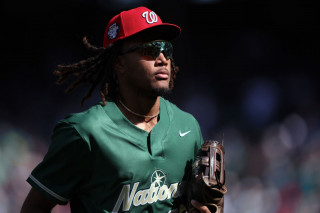 The Nationals' improvement at the big league level this year was important, no doubt. It wouldn't have meant much, though, if they didn't also see improvement at the minor league level.
This organization's attempt to rebuild itself back into a perennial contender won't be realized unless enough homegrown players emerge from its farm system in the next two years to supplement what's already on the 26-man roster. In some regards, what happened nightly in Rochester, Harrisburg, Wilmington, Fredericksburg and West Palm Beach this season mattered even more than what happened in D.C.
By all accounts, the Nationals are pleased with the results. A farm system that rated in the lower-third of the sport only 18 months ago now rates in the upper-third, with several of baseball's top prospects headlining the list.
"The best part of the minor league season was that all the players that we really were looking forward to take a step forward, we believe have," general manager Mike Rizzo said. "We think that was a success in that regard."
Not every prospect improved, though, and there is now evidence the organization isn't 100 percent satisfied with the 2023 season. DeJon Watson, the Nationals director of player development the last two years, won't be back in 2024, a source familiar with the decision confirmed. (The Washington Post was first to report the news Monday evening.)