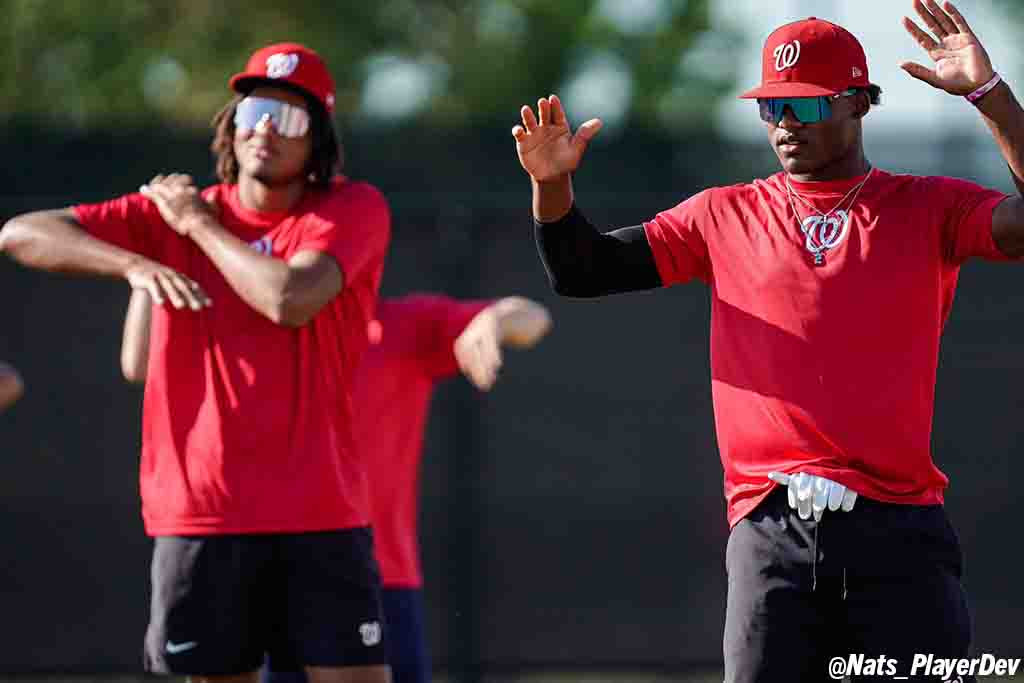 As the major league regular season enters its last week, the lower level of the minor leagues have already wrapped up their 2022 campaigns.
In the Nationals system, only Triple-A Rochester is still playing games with their season finale coming tomorrow afternoon. Double-A Harrisburg, High-A Wilmington, Single-A Fredericksburg and the Rookie-level Florida Complex League are done playing games and now see some of their top players come together for the instructional league camp at the Nationals' facility in West Palm Beach, Fla.
Robert Hassell III, Elijah Green, James Wood, Jarlin Susana and Jackson Rutledge are among some of the top prospects taking part in instructs. A lot of the future faces of this franchise are all together for their first camp since many of them came to the franchise via this summer's draft and trade deadline moves.
Just an hour away in West Palm, the group of players made a trip down to visit the Nationals over the weekend in Miami. General manager Mike Rizzo, director of player development De Jon Watson and manager Davey Martinez were among some of the heads in the organization to address the young players.
"Yeah, I spoke to them all and I talked to them for a little while," Martinez said. "It was good to actually get in front of them and see some of those guys. Some of the guys I've seen before but congratulate them for being there. I mean, when you get to instructional league, it's kind of like the guys are handpicked to be there and get some more instruction. And I told them to keep working hard and kind of be the cream of the crop, really. And keep working. I mean, the door's wide open right now for you guys and we're looking at players and keep pushing. Be the best and keep putting up the numbers and have fun."