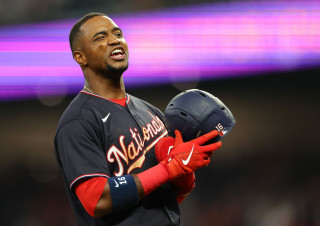 Victor Robles is ready to start playing in games again. Another week or so and he should be ready to play for the Nationals again.
Robles will join Triple-A Rochester on a rehab assignment Friday, the final step in the outfielder's recovery from a back injury that has sidelined him more than a month.
"Hopefully everything goes well and we get him back here soon," manager Davey Martinez said.
Robles departed Thursday and is expected to play four innings for Rochester, which is on the road at Worcester, on Friday. Given the amount of time he has missed, he will likely build up his workload over several days and could spend a full week on the rehab assignment before the Nats decide to activate him off the 10-day IL.
"He's got to go out there and play, start getting some at-bats," Martinez said. "I want to see him do everything that he normally does. If he gets an opportunity to steal some bases, take the extra bases, play good defense, all that stuff."