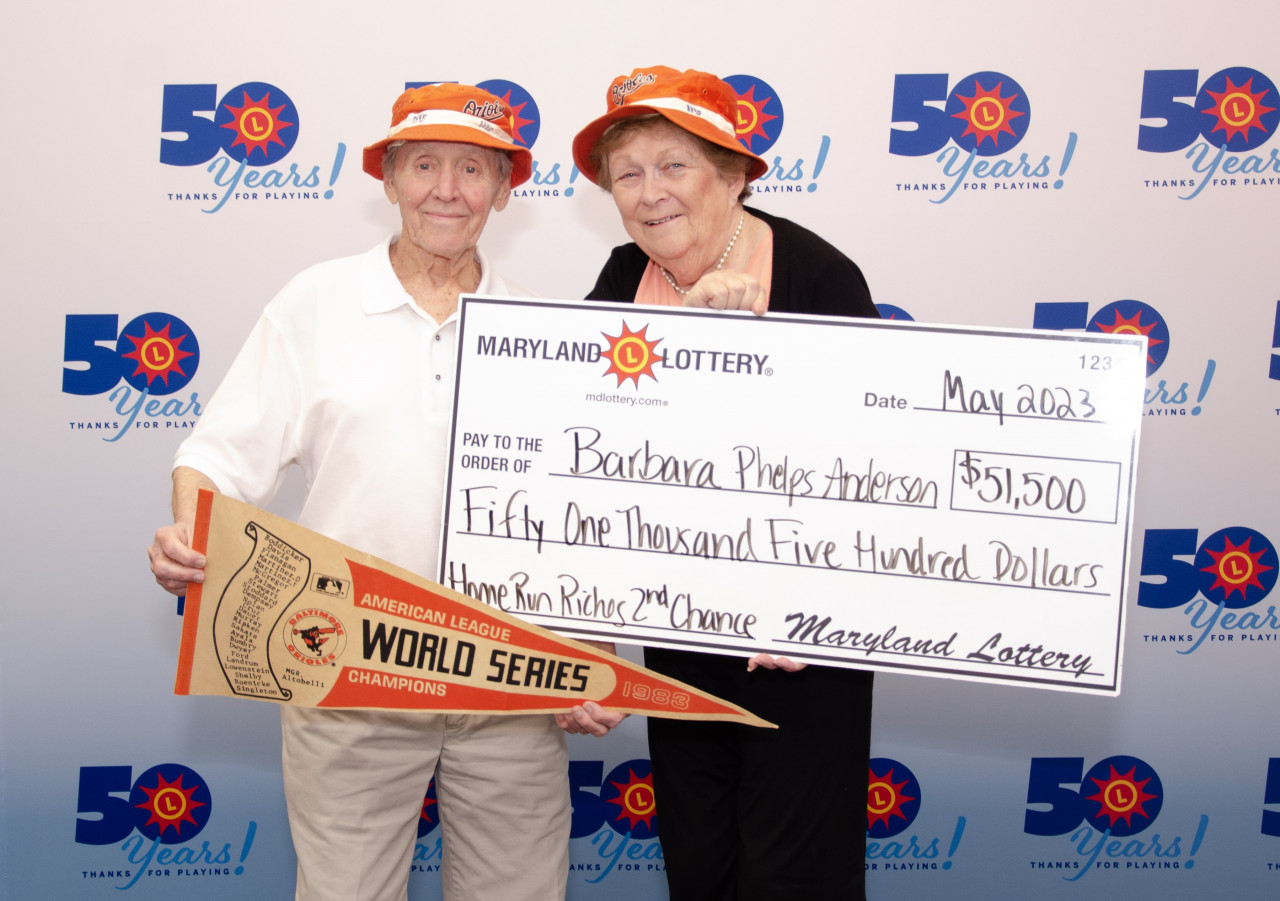 The Orioles are continuing March and April's hit parade this May with a smattering of taters up and down the lineup, and the slugging performances have kept Mr. Splash busy at Camden Yards. But as the fans were cooling down in the Bird Bath Splash Zone, the excitement was also heating up for the Orioles' 50th home run of the season, all due to the Maryland Lottery's Home Run Riches Contestant of the Game Promotion. 
When would it happen? Who would hit it? And who would be the Lottery's Contestant of the Game at the time? Those questions have been on the minds of Orioles fans and Lottery players alike with each Orioles home run because when the team's 50th homer was hit, someone was going to win a $50,000 prize!
The answers to these questions came on May 16 during the second game of the Orioles' series against the Los Angeles Angels when two Ryans — O'Hearn and Mountcastle — went yard, hitting the 50 home run mark and winning Shady Side, Md. resident Barbara Phelps Anderson a total of $51,500!
In the 2023 campaign, the Birds have hit 53 HRs, winning the Lottery's Home Run Riches Contestants of the Game $98,500. Contestants of the Game are drawn monthly, and the winners for the 24 games in June will be selected on May 23. The deadline to be part of that drawing is 11:59 p.m. on May 22.
The Maryland Lottery selects a Contestant of the Game for each of the Orioles' 162 regular season games. Each winner receives $500 for being picked and is designated as the Contestant of the Game for an upcoming Orioles matchup. They'll also win an additional $500 for each home run the Orioles hit during their designated game.