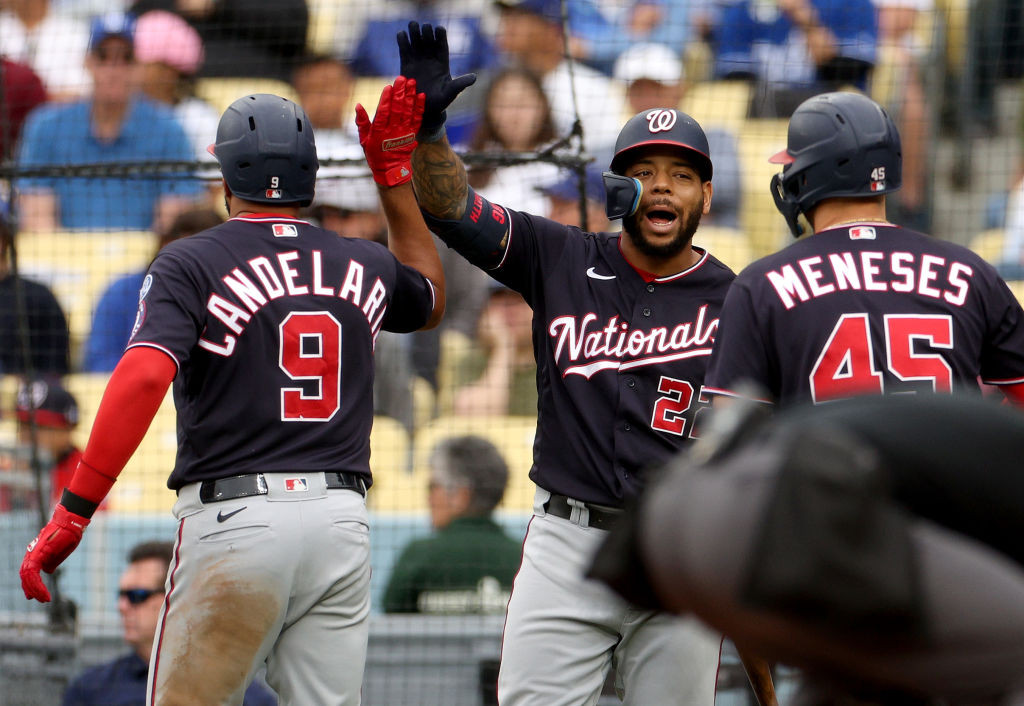 LOS ANGELES – Luis García skipped out of the batter's box, looked toward the Nationals dugout and yelled with delight. One inning later, Keibert Ruiz took his time leaving the box, making sure the ball really was going to leave the park, before turning toward his teammates, pounding his chest and letting out a primal scream of his own.
At the end of a long road trip that saw way more well-struck balls die at the warning track than clear the fence, two months into a season that has seen far too few blasts from one of the majors' least-home-run-hitting lineups, the Nats finally won a game not on the strength of their pitching, their defense or their ability to string together a bunch of singles.
No, this 10-6 victory over the Dodgers was characterized above all else by power. Lots of it.
The Nationals launched five homers on a gray, 65-degree L.A. afternoon. Two of them were produced by Ruiz, who had already homered during Tuesday night's loss against his former organization. The biggest, though, came off the bat of García, whose three-run shot down the right field line in the top of the eighth gave his team the lead for good and served as the emotional high point of a game that featured all manner of wild, back-and-forth moments.
"We came with a good atmosphere today," said third baseman Jeimer Candelario, who homered himself and reached base four times. "The guys wanted to have a happy fight. We're going to D.C. It's a long flight. You don't want to lose that game and then (take) that long flight."