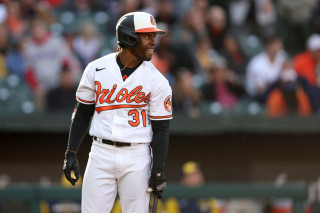 Rodriguez struggles in third before strong finish, Mullins homers in return, Orioles and Tigers tie 8-8
SARASOTA, Fla. – The trouble that found Grayson Rodriguez in the fourth inning in his past two starts arrived a little earlier tonight.
Rodriguez allowed five runs in the third after retiring six of the first seven Tigers batters. Riley Greene and Spencer Torkelson burned him with two-out RBI singles and Nick Maton jumped on a two-strike pitch and cleared the center field fence.
In a reverse from his spring past, Rodriguez got a fly ball and two strikeouts while retiring the side in order in the fourth. He fanned former Oriole Jonathan Schoop on 10 pitches, blowing a fastball past him.
Andrew Knapp also struck out to end the inning, and left-hander Cionel Pérez began to warm. But again, the second time through the order created issues.
Rodriguez was charged with five runs and four hits in four innings, with no walks and five strikeouts. All of the damage occurred in the third.
The right-hander has registered a 7.04 ERA in five starts covering 15 1/3 innings. It isn't known whether the numbers could influence his spot in the Opening Day rotation, where he'd slot fifth.
"I'm going to leave that up to them," he said. "I was just focused on going out every fifth day, making my starts, really just going out and competing."
The final inning didn't hurt Rodriguez's cause. He's stretched out to 73 pitches and did more throwing in the bullpen.
"Being able to get back out there, reach the pitch limit that inning, it's big," Rodriguez said.
"I think today was probably my best start. I definitely felt the best. This spring, we've got a lot of things we worked on and that's what it's for, so I felt like we accomplished that."
"I thought the breaking balls were better tonight and he didn't walk anybody. I think those are positives," manager Brandon Hyde said after an 8-8 tie.
"Ran into trouble that inning, but threw strikes for the most part. Just a lot of deep counts. Pitch count pretty high through four innings. But I thought the stuff was better. He didn't command it real well that one inning."
Hyde wanted to see improvement in the slider tonight, and Rodriguez delivered.
"It was definitely the best I've thrown the pitch all spring," Rodriguez said. "Something we've just really been working on, so I was pretty happy with how the slider was."
Rodriguez almost retired the side in order in the first, but Greene reached on third baseman Gunnar Henderson's fielding error on a ball that took a bad hop and slammed off his chest. Rodriguez notched his second strikeout and walked back to the dugout.
Twelve pitches in the second inning produced two ground balls and a popup.
Schoop led off the third by reaching on an infield hit, with Ryan Mountcastle unable to make the backhanded stop. That play, as it turned out, would influence Rodriguez's outing.
Knapp lined to center field and Kerry Carpenter struck out, but Rodriguez hit Matt Vierling, and the two singles and home run gave Detroit a 5-3 lead.
Eric Haase flied out on Rodriguez's 26th pitch of the inning. Twenty were strikes, so control wasn't an issue beyond the hit by pitch. He threw 52 strikes among his 73 pitches.
Is there a common denominator among the fourth inning in his two previous outings and the third tonight?
"Not really," he said. "Just like I guess the ability to make pitches. Obviously at this level, mistakes get capitalized on."
"A little different each time," Hyde said. "No walks. That's definitely a positive. But just some balls I thought were elevated in the middle part of the plate."
The results aren't an obsession for Rodriguez compared to how he's feeling and what he's working on between and during starts. But he also sees the crooked numbers in one inning. They can't hide.
"It's tough," he said. "As a pitcher you want to go out and compete, throw well, but also in the spring I guess it doesn't matter as much as it does during the season, So, really, just taking the positives out of each outing and rolling with that."
Asked to summarize Rodriguez's spring, Hyde said, "I think good innings and some tough innings. A handful of tough innings there, kind of crooked numbers. But this is his first true major league spring training and I think you have to remember he's a really young player and sometimes it's OK to go through some rough patches to know that you have to make some adjustments.
"He's going to learn to be able to get out of those innings where things aren't going well, to be able to make a pitch when you need to and get a double play or you get a punchout to kind of stop the bleeding. And so far this spring he's had a bad inning almost every time out."
Mountcastle could have been charged with an error on Schoop's ball. He prides himself on his improved defense at first base and normally fields it cleanly. If he does, Rodriguez has another 1-2-3 inning.
Rodriguez won't notch another inning this spring. The Orioles are running out of games. If he pitches for them again, it's in his major league debut.
"We're still evaluating, honestly," Hyde said. "We still have other guys who are rotation candidates, also, so we're going to make that decision at the end."
* Cedric Mullins announced his return from the World Baseball Classic with authority.
Mullins hit a three-run homer off left-hander Tyler Holton in the bottom of the second inning. He went 1-for-4 before Ryan McKenna replaced him in center field.
Henderson led off the inning with a single, his fourth hit in six at-bats after a 2-for-22 start. Jorge Mateo dumped a fly ball into shallow center field, Adam Frazier and Daz Cameron struck out, and Mullins homered in front of the batter's eye.
"I feel more comfortable with what's going on on the field, just be able to take a step away from it, feel more refreshed and just be comfortable in the box," he said. "Was able to put good swings on the ball today."
Mullins was 2-for-10 with a home run for Team USA and started in left field in the championship game against Japan. He loved the WBC experience.
"It was amazing," he said. "Just all around an amazing experience. I'd recommend anybody who has that honor to take it for sure."
The home run against Cuba was the highlight for Mullins.
"Regardless of us kind of dominating Cuba by the time I came in, just me being aggressive on a pitch," he said. "I got that ball back at the end of the night and that's definitely going to be hung up."
Mullins was eager to meet USA hitting coach Ken Griffey Jr. and pick up some pointers. He talked about it during the Birdland Caravan.
"I can't give away everything he told me, but for sure got some good stuff out of him," Mullins said. "He's obviously a great guy and just communicated well with guys out there."
* Ryan Mountcastle followed Adley Rutschman's walk in the first inning with a single into left field. He also singled in his next two at-bats to raise his spring average to .436 (17-for-39).
Daz Cameron led off the fifth by homering against his former team. Rutschman reached base for the third time by drawing a two-out walk, Mountcastle singled again and Anthony Santander delivered a run-scoring single for his first hit in 16 at-bats outside the World Baseball Classic.
Santander singled again in the sixth inning.
Jorge Mateo tripled in the fifth and Cameron doubled with two out to give the Orioles a 6-5 lead.
Two Matt Wisler balks allowed Terrin Vavra to score in the seventh. Jordan Westburg doubled in the eighth and scored on Josh Lester's double.
Cionel Pérez walked a batter and struck out two in a scoreless fifth. He's allowed one run in seven innings.
Félix Bautista tossed a scoreless sixth with a double on a ground ball that deflected off Mateo and three strikeouts, a nice recovery from the three-walk mess in Clearwater.
Reed Garrett was charged with three runs in the ninth, when Detroit tied the game. Nolan Hoffman entered with two on and one out, and he walked two batters to force in the tying run.
Hyde said Ramón Urías took a ground ball off his right thumb in batting practice, which is why the infielder was scratched from the lineup.
"He should be fine," Hyde said. "Just kind of on the nail and pretty bruised up."
By accepting you will be accessing a service provided by a third-party external to https://www.masnsports.com/