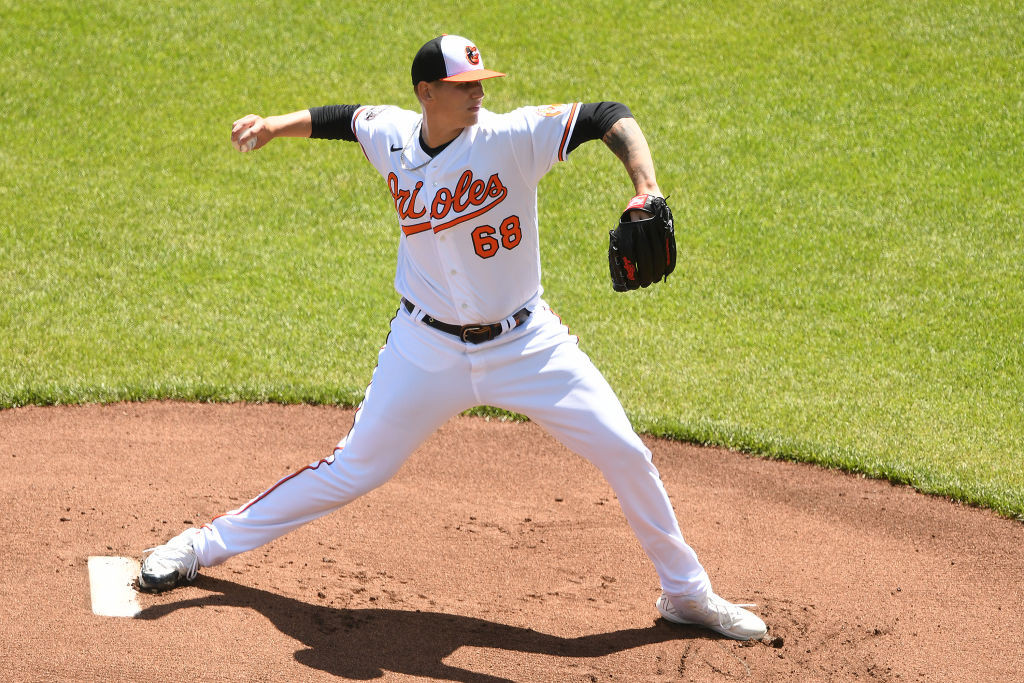 Wells finishes in fine fashion, Hall has second spring outing, O'Hearn homers among three hits (O's win 6-4)
BRADENTON, Fla. – Asked again about Tyler Wells before tonight's game against the Pirates, the latest attempt to ascertain the Orioles' plans for him, manager Brandon Hyde noted the positive reports from the right-hander's last outing in Tampa and how well he pitched as a starter in 2022.
"I think he can do a lot of things for us," Hyde said.
The specifics remain locked in the vault.
Wells issued the strongest statement for his inclusion on the roster with tonight's effort against the Pirates, the only question being in what role. He was touched only for an unearned run and two hits over five innings, with no walks and two strikeouts. He retired 14 of the last 16 batters.
Coupled with his previous outing against the Yankees, Wells has surrendered one earned run with no walks in 8 2/3 innings. A fast finish in the race for a rotation spot.
"Execution, honestly," Wells said. "It's just being able to go out there and make the pitches when you need them. Obviously, my defense has been picking me up, as well. It's a good recipe.
"Overall, I think spring has been pretty solid. I had a couple of rough outings and I think that overall the plan has been very consistent. I feel like I've thrown a lot of strikes, I feel like I've competed against guys. But it's also crazy to think it's hard to compare to other spring trainings because this is the first normal one that we've had in a long time. So, I'm overall very happy with it and I think that this is a good way to kind of top it off for the time being."
Does Wells deserve to be in the rotation, where he excelled in the first half last season before injuries struck? His words are chosen carefully.
"To say whether I deserve it or not, I mean, that's not up to me," he said. "Unfortunately, I don't want to answer that question directly, but I think the organization's going to do what they can do to put the best team out there.
"I've executed what I've wanted to do this spring training, which is command my pitches, go out there and not try to walk guys, attack guys as I usually do. I try to keep that same mentality during seasons that I do in spring training."
Wells allowed a single to leadoff hitter Oneil Cruz in the first and got a double play grounder from Bryan Reynolds. The biggest danger to him was the sharp grounder from Ke'Bryan Hayes that ricocheted off his foot to second baseman Ramón Urías. Wells flexed the ankle and took a few cautious steps toward the dugout before regaining his usual stride.
Eight batters in a row were retired after Cruz's single. Cruz reached on Urías' two-base fielding error leading off the fourth and scored with one out on Hayes' sacrifice fly.
Rodolfo Castro singled with two outs in the fifth and Ji Hwan Bae flied out on Wells' 62nd pitch. DL Hall replaced him.
"For me it was huge," said Wells, who threw 18 more pitches in the bullpen. "Definitely gets me mentally right just kind of knowing our attack plan with the coaches, Boomer (Anthony Bemboom), everything worked out really well and I was happy to execute it. Couldn't be happier about it."
Said Hyde after a 6-4 win: "Loved what he did. Once again pounded the strike zone like he did his last start. He's getting better feel for his off-speed, I thought his fastball had good life. Five pretty clean innings."
* Hall was charged with one run in 2 1/3 innings, and it scored after Rule 5 pick Andrew Politi replaced him in the eighth. Politi inherited a runner, loaded the bases and gave up Mike Jarvis' two run single off the left field fence.
Another run scored on a ground ball, the Orioles' lead was reduced to 6-4, and Politi had only his second poor outing in nine appearances this spring.
Hall allowed two hits, walked two batters and struck out three. He threw 50 pitches, 32 for strikes.
"He got tired there the last hitter or two, but his stuff was really good again," Hyde said. "I'm really impressed with his strike throwing. Strike throwing ability the last couple times has been really good. Good changeup, good slider with him, and a mid-90s fastball right now that he's commanding well."
The lefty threw 13 of 15 pitches for strikes in the sixth, allowing a single and striking out Hayes on a 94.4 mph fastball. He struck out the first two batters in the seventh inning – Carlos Santana was called for a clock violation on the first – and stranded two runners after an infield hit and walk.
Hyde kept Hall in the game as planned and removed him after a ground ball and walk.
"My feel is probably at an all-time high, so that's always a positive," Hall said. "Obviously still working to get the stamina back. Got a little tired at the end, but my feel for all my pitches has been great.
"I'm going to do anything I can to be pitching at the big league level. Just going to keep pushing and keep doing what I've been doing."
The fastball velo has been 93-95 mph and is going to rise.
"You always want to light up the radar gun but right now for me it's getting that feel back, getting that stamina back," Hall said, "and then once we're at Camden Yards, we'll start letting it go."
The Orioles seem open to putting Hall in the bullpen, though they want to keep developing him as a starter and he's basically on a starter's schedule.
"I'm ready for whatever they throw at me," he said. "I'm just looking forward to taking the opportunity to get big league hitters out, no matter out of the 'pen or starting."
* Vince Velasquez made his fourth spring start for the Pirates, all against the Orioles. He held then to one run and three hits with seven strikeouts in five-plus innings.
Jordan Westburg broke a 1-1 tie in the seventh with a two-run double that followed Ryan O'Hearn's leadoff single and Ryan McKenna's walk. Anthony Bemboom hit a two-run homer.
O'Hearn had three hits, including a leadoff homer in the eighth for a 6-1 lead. He's 14-for-37 (.378) this spring.
Franchy "Franchise" Cordero – that's mine – led off the second inning with a single for his 19th hit in 41 at-bats (.463). The tying run scored in the fifth when O'Hearn led off with a double, McKenna walked, both runners moved up on Nomar Mazara's fly ball to deep center field and Westburg flied to left.
* Catcher James McCann hasn't played in five days due to some soreness in his side.
"We're just being precautionary with him," Hyde said. "Hoping to get him back in there in the next few days."
* Shortstop Jackson Holliday fouled a ball off his right foot yesterday at Twin Lakes Park and came out of the game. He didn't play today, but I'm told it was only as a precaution and he's fine.
By accepting you will be accessing a service provided by a third-party external to https://www.masnsports.com/