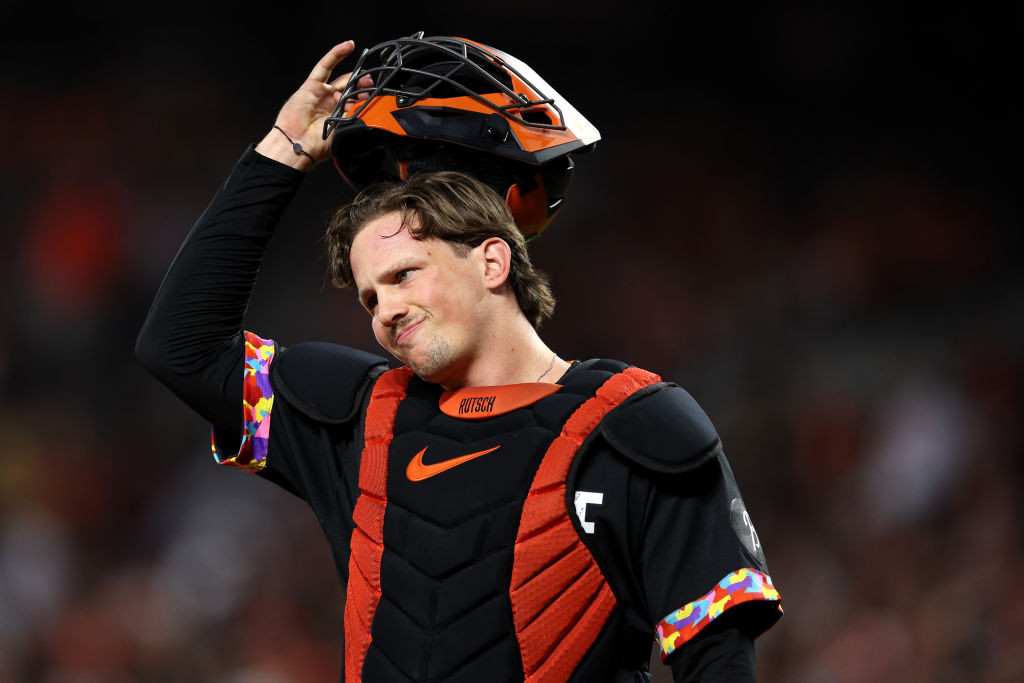 Orioles pregame notes on rotation plans, postseason prep, Kjerstad, Mountcastle and lineup scratches
The Orioles are starting veteran Kyle Gibson on Saturday and remain undecided about Sunday, which would be Kyle Bradish under pre-clinching circumstances.
Uncharted territory for the franchise under the current regime.
"We're still kind of playing with some things," said manager Brandon Hyde.
Hyde isn't ready to detail how the Orioles are handling their regular season finale or compensating for the extended break before Saturday's Game 1 of the Division Series.
"It will be a lot of scheduled bullpen appearances for a lot of these guys," Hyde said. "I didn't want to schedule too much stuff, honestly, because I didn't want to jinx anything. I wanted to make sure we clinched first. But now a lot of discussions are in place."
Setting up the playoff rotation also is on hold, partly because the Orioles don't know which team will win the wild card round.
"Nothing's set in stone right now," Hyde said. "We're seeing who we're playing and we have some time."
Earning a bye leaves the Orioles with five idle days before the Division Series. They'll work out a little and try to heal.
"It's very unique," Hyde said. "I've never had that many days off in a row, especially before a postseason game. We have some guys who could really use some time off. That many days? No. But how do we simulate live pitching, having our hitters continue to see velocity. Probably want some of our pitchers to throw at some hitters at some point. So, all of those things are coming into play."
The Orioles will bring up some players from Triple-A Norfolk as a taxi squad for the postseason in case of injury.
Heston Kjerstad makes his first start in the outfield tonight, handed right field with Anthony Santander getting a break. He made a brief appearance in left on Sept. 18 in Houston, after Hyde was forced into some unorthodox moves in the ninth inning because Aaron Hicks left the game with hamstring cramps.
"I want Heston to get the experience out there," Hyde said. "You're going to see him play probably two, if not all three of these games and give him the at-bats. I want to give him four or five at-bats a night if I can and see what he's like against big league pitching."
Three of Kjerstad's first six hits are for extra bases, including a pair of home runs.
"Really impressed," Hyde said. "Like all of our young guys, carry themselves so well. He carries himself like a pro. He's always ready and he's got a great attitude. He loves to be here. Fits right in.
"I think the defense is improving. I know (Anthony) Sanders has been working with him every day and there's a lot of improvement there, defensively. And the power he has is incredibly special. His batting practice is loud. It's a little bit of a unique swing, but it's so strong and he's so flat. And the barrel stays in the strike zone a long time. He's got a chance to really hit."
Ryan Mountcastle gets back-to-back starts at first base after the Orioles activated him this week from the injured list. He said the left shoulder is feeling "good enough, so I'm good enough to go out there and play."
"Just trying to stay healthy and out there and do whatever I can to help," he said.
Mountcastle doesn't think he needs many at-bats to be sharp at the plate for the postseason.
"I've been playing the game long enough, got enough games in this year to feel pretty comfortable," he said. "Felt pretty comfortable last night, so just a couple would be nice."
Mountcastle was in the lineup last night for the first time since Sept. 13, the timing ideal with the magic number tumbling to zero.
"It was amazing," he said. "For us to clinch the division yesterday, it was a lot of fun and super excited to keep it going."
Mountcastle made his major league debut in the shortened 2020 season and appeared in 144 games the following year, when the Orioles lost 110.
"To go through what we went through in the past and to be where we're at now, it's insane. Super surreal," he said.
Adley Rutschman and Ramón Urías are scratched from the lineup because they're "under the weather," per the team. James McCann and Jordan Westburg must answer the bell.
For the Orioles
Cedric Mullins CF
Ryan Mountcastle 1B
Ryan O'Hearn DH
Austin Hays LF
Heston Kjerstad RF
Jordan Westburg 3B
Adam Frazier 2B
James McCann C
Jorge Mateo SS
For the Red Sox
Ceddanne Rafaela CF
Rafael Devers 3B
Justin Turner DH
Adam Duvall RF
Rob Refsnyder LF
Trevor Story SS
Pablo Reyes 2B
Bobby Dalbec 1B
Connor Wong C
Nick Pivetta RHP
By accepting you will be accessing a service provided by a third-party external to https://www.masnsports.com/