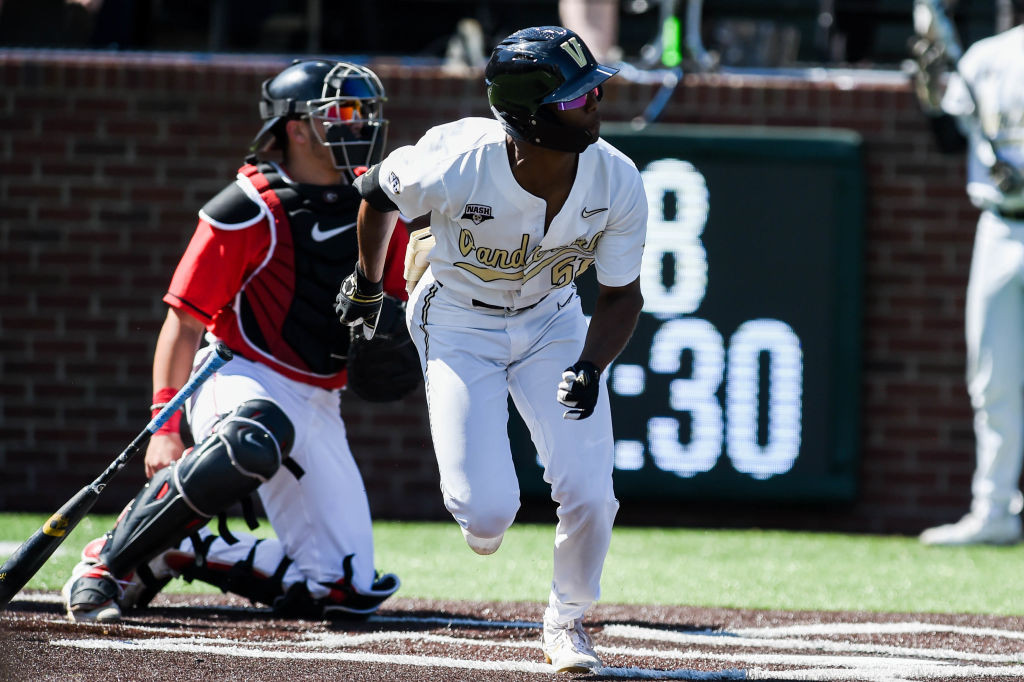 Orioles select Vanderbilt outfielder Enrique Bradfield in first round of draft (updated with other picks)
The Orioles apparently had a need for speed in the first round of the draft.
They used the No. 17 overall selection on Vanderbilt outfielder Enrique Bradfield Jr., 21, a left-handed hitter who Baseball America grades an 80 runner and fielder.
Bradfield stole 130 bases at a 90.9 percent success rate in 191 games. He batted .311/.426/.447 with 31 doubles, 11 triples, 15 home runs and 108 RBIs.
Also appealing to the Orioles is the 14.7 percent walk rate, compared to a 13.5 percent strikeout rate. He made contact at an 87 percent rate this season.
The power is lacking, with Bradfield given a 30 grade as more of a line drive hitter.
Baseball America describes Bradfield, a Florida native, as a "top of the scale defender who covers massive swaths of ground with great instincts but a below-average arm."
Juan Pierre has been cited as a comp.
Executive vice president/general manager Mike Elias said in a video call that Bradfield was one of the better realistic outcomes.
"Somebody that we had a bit higher than 17th on our board and understood that there was a chance he might fall, even though he was ranked a little bit higher than our pick," Elias said. "He is a premium college player from the most premium conference there is, from the most premium program there is, and he's been excellent for three years there after being identified as a top prospect coming out of high school. I think the conversation with him starts with his center field defense. It's absolutely electric in college, and probably one of the better college center field defenders we've seen in a while. He's arguably one of the best baserunners and base stealers in recent college baseball history.
"A tremendous profile to work from as a left-handed hitter, and has the impact defense and speed to carry him. He's a very good offensive player, great eye, top-of-the-order kind of approach and skill set. So we just think he profiles very well and has skills that tend to scale well up the ladder in professional baseball. Seems like a terrific kid from all the work that we've done, all the conversations that he's had. I think he's very high energy, very high work ethic, very high character, and they don't get a better experience than you do at places like Vanderbilt, too, to help mold you."
Elias didn't see Bradfield in person, but had lots of video and television broadcasts at his disposal. He believes that Bradfield profiles as a leadoff hitter, and said the club benefited from the draft's depth, especially with college position players.
"Ordinarily, I think a guy like Enrique goes in the top 15 picks, if not higher than that," Elias said.
"The way he controls the zone, he can spray the ball around to all fields. He's got enough power for his profile. I think there's still offensive ceiling to be had if he can continue to make improvements with his mechanics and just fine-tune his approach. But if we're correct that he's a plus-plus center fielder, and there doesn't seem to be a whole lot of controversy about that, that's a really nice defensive profile to help carry through the minors and into the major leagues."
The Orioles pride themselves on being athletic and Bradfield certainly meets that description. And being a left-handed hitter with the shift ban should really let his tools play.
"I think he fits well at Camden Yards," Elias said. "It was just a very good fit all around."
Bradfield will report to the Florida Complex League after he takes his physical and signs, and perhaps move up later to Single-A Delmarva. The Orioles want him to get acclimated, with no timetables to burden him.
"I expect he's going to transition to pro ball pretty smoothly," Elias said. "I think our minor league staff's going to love him and the fire that he plays with and the energy, and then we'll just see how his performance is out of the chute."
Elias oversees a draft that has produced catcher Adley Rutschman first overall in 2019, outfielder Heston Kjerstad second overall in 2020, outfielder Colton Cowser fifth in 2021 and shortstop Jackson Holliday first in 2022.
Holliday, the top prospect in baseball, is moving up from High-A Aberdeen to Double-A Bowie, as first reported by MASNsports.com. Third baseman Coby Mayo, a fourth-round pick in 2020 and ranked by MLB Pipeline as the No. 76 prospect, has been promoted to Triple-A Norfolk.
Rutschman is playing in Tuesday's All-Star Game after hitting a 461-foot home run today in a 15-2 victory over the Twins at Target Field. Kjerstad went 1-for-2 in last night's Futures Game and is batting .323 with a 1.017 OPS and 14 extra-base hits in 25 games with Norfolk. Cowser was promoted to the majors on Wednesday, which began the Orioles' five-game winning streak.
The No. 1 farm system is becoming deeper as the sport moves through this year's draft.
"It's great because we're promoting so many of these guys, I'm starting to worry about our farm system rankings," Elias quipped. "So luckily, we're getting three more tonight, hopefully, if we can get them signed."
Elias hasn't selected a pitcher earlier than the third round, Oklahoma State's Nolan McLean, a two-way player who didn't sign last year. Carter Baumler was a fifth-rounder in 2020, Carlos Tavera in 2021 and Trace Bright in 2022.
Grayson Rodriguez is the last pitcher chosen in the first round in 2018, the last with Dan Duquette leading the front office. Pitchers Cody Sedlock and DL Hall were taken first in 2016 and 2017, respectively.
The philosophy has changed with Elias' arrival. Much more emphasis on college bats and up-the-middle talent.
The Orioles' first pick comes with a slot value of $4.1697 million.
They will be back on the clock tonight with the 53rd and 63rd selections before the draft moves into Day 2 Monday afternoon.
The 53rd has a slot value of $1.5829 million, and the 63rd is $1.2433 million. The club's total bonus pool is $10,5348 million.
The Pirates owned the first pick and selected LSU ace Paul Skenes, and the Nationals took LSU outfielder Dylan Crews at No. 2. The first time in history that teammates went one and two.
The Tigers selected Indiana prep outfielder Max Clark at No. 3, the Rangers followed with University of Florida outfielder Wyatt Langford, and the Twins chose North Carolina prep outfielder Walker Jenkins at No. 5.
Minnesota moved up eight spots due to the new draft lottery.
The Angels used the 11th pick on Florida Atlantic first baseman Nolan Schanuel, who was linked to the Orioles in multiple mocks. Virginia prep first baseman/pitcher Bryce Eldridge, also mentioned as a possibility for the Orioles, was chosen by the Giants at No. 16.
University of Maryland shortstop Matt Shaw, the Big 10 Player of the Year, lasted until the Cubs at No. 13.
Update: The Orioles selected University of North Carolina outfielder Mac Horvath with the 53rd pick.
Horvath, 21, played third base but was announced as an outfielder. He attended the IMG Academy in Bradenton, Fla.
In three college seasons, Horvath batted .275/.387/.584 with 40 doubles, three triples, 47 home runs, 141 RBIs, 44 stolen bases, 104 walks and 141 strikeouts. He hit 24 homers in 60 games this season and batted .305 with a 1.129 OPS, 21 doubles and 25 steals.
The native of Minnesota bats from the right side. Baseball America ranked him as the No. 91 prospect and graded him as a plus runner with a plus arm.
The publication also mentioned "mechanical questions about his swing."
Update II: The Orioles completed Day 1 of the draft by selecting Florida State right-hander Jackson Baumeister at No. 63. He's the highest-round pick for a pitcher under Elias.
Baumeister, 20, is a Jacksonville native who's listed at 6-feet-4 and 224 pounds. He struck out 95 batters in 69 innings this season and posted a 5.09 ERA and 1.420 WHIP with 29 walks in 15 games.
Baumeister struck out 136 batters in 96 1/3 innings in two seasons with Florida State. He surrendered only eight home runs.
Baseball America ranked Baumeister as the No. 60 prospect and wrote: "Riding fastball checks plenty of analytical boxes; fringy control but solid four-pitch mix."
By accepting you will be accessing a service provided by a third-party external to https://www.masnsports.com/