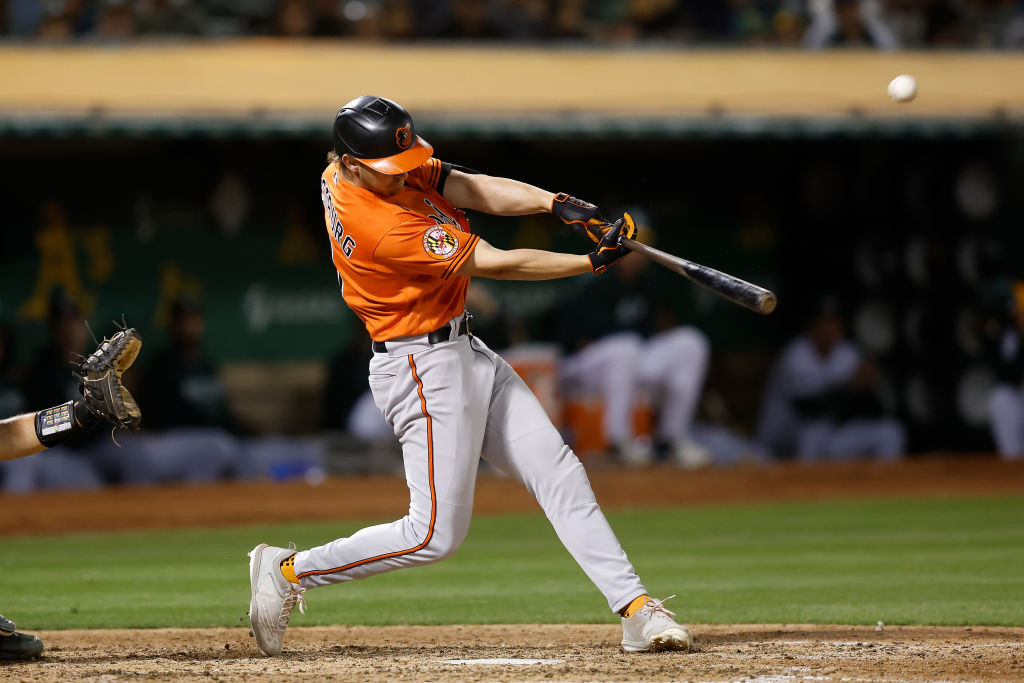 Rookie Jordan Westburg with a big pinch hit and Jorge Lopez on rejoining the O's (plus Holliday promoted)
PHOENIX – He has now played 50 games in the big leagues, and it feels like that went by pretty fast for O's rookie Jordan Westburg. 
As a pinch-hitter on Sunday at Arizona, he produced an RBI double in the sixth inning which turned a 5-4 Baltimore lead into a 6-4 edge that would become 8-4 before the inning was out.
It was a nice contribution from Westburg, who is batting .281 with an OPS of .829 with runners in scoring position.
It was another game where the Orioles showed they are resilient. After Arizona tied the game in the fifth and the Orioles didn't get what they felt was a sure running out of the baseline call by the D-backs Geraldo Perdomo, they just came back to bat and put up four runs to take charge of the game for a second time.
"I think we've been doing it (bouncing back well) all season," said Westburg. "You brush off the losses and you come back with a brand-new mindset. It's a new day and everyone in the clubhouse trusts the offense. I think the hitters know that we are good enough to put up 10 runs on a given night."
The call they didn't get in the fifth was a play they simply moved on from in the sixth.
"Short memory. It's the fifth inning. There was a lot of game left. We were consistently getting guys in scoring position, and I was thinking it's only a matter of time. You saw the answer in the sixth," said Westburg.
The rookie who is batting .264/.310/.403/.713 is still finding his way at the big league level.
"It's a new role for me and I'm still learning how to anticipate the days where I am coming off the bench or getting ready for a start. I just try to take it day-by-day. Try to slow the game down when I am playing and trust my abilities. Trust what got me here," he said.
And he is taking each game and each experience as it comes right now. Even though the games are going away fast and the O's lead atop the AL East is 2.5 games over the Rays.
"I try to treat every game the same," Westburg said. "Like it's a must-win essentially. Whether it's good or bad, it's kind of up to the player how they approach it. I try to do everything I can when I am in the lineup to help this team win. I try to just treat them all the same. Atmospheres change, ballparks change, teams change. So, some may feel bigger than others but try to treat them the same."
López on rejoining the Orioles: The smile for right-hander Jorge López was back and big as ever on Sunday morning in Phoenix. He was an Oriole once again and some memories came rushing back.
He said a few times he didn't know who was happier about the news the O's claimed him on waivers – him or his family.
"That is the most important thing," he said of his family's happiness. "They are happier than me. Been through these couples of months but I'm a new guy today. They feel like I should be where I'm at. They are really thankful."
López described his season where he pitched to an ERA of 6.13 in 49 games with the Twins and Marlins as a roller coaster. What did he learn going through it?
"Just stay positive. Stay positive. (That is) the only thing you can do with struggles. It's all mindset."
He said he talked to manager Brandon Hyde about his role this month.
"Be ready for anything (Hyde said)," López told reporters. "When I first got here it was the same spot. First year, I was really struggling with Kansas City. Came here and was open to anything. Just give me the ball and get outs."
He said he was excited to see how the Orioles have turned a losing team not only into a winner, but a first-place squad.
"Really happy for the journey they have been going through," said López.
López got into the game yesterday in the last of the eighth with the O's leading 8-4. He gave up a leadoff double but then got a groundout, strikeout and fly out. He had allowed nine runs in 4 2/3 over his last five games with Miami.
He threw just eight pitches Sunday, all for strikes, averaging 96 mph on his fastball and touching 97. He got one swing and miss on a changeup for his strikeout.
At 85-51 and with wins in 11 of 15 and 22 of their past 32 games, the Orioles road trip stops in Anaheim, Calif. tonight for a series that begins with the Angels. Righty Grayson Rodriguez (4-3, 5.03 ERA) gets the start opposite the Angels' lefty Kenny Rosenberg (0-0, 6.43 ERA).  
Holliday on the move to Triple-A: Last night, in a story first reported here by MASNSports.com, we learned that shortstop Jackson Holliday will move from Double-A Bowie to Triple-A Norfolk. This will be his fourth different affiliate this year, a remarkable performance by the 19-year-old Holliday, who is ranked as the sport's No. 1 prospect. For more on that from last night, click here.
By accepting you will be accessing a service provided by a third-party external to https://www.masnsports.com/