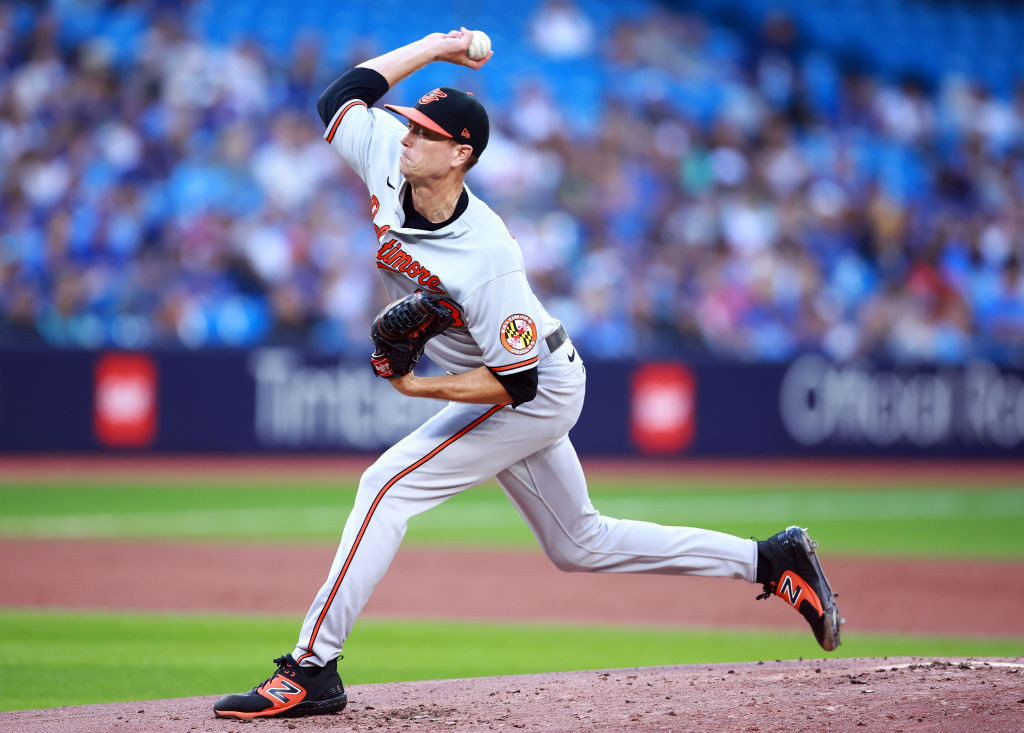 Nice series start: Gibson goes six, Mountcastle drives in three, Hays makes great catch in ninth as O's win (updated)
TORONTO – When the Orioles played in Toronto in May, they swept a three-game series at Rogers Centre. It was their first sweep at the place since April 22-24, 2005. They returned tonight to find out if they could win again at a ballpark where O's wins over many years were scarce.
The Orioles were also looking to build on their series win over the weekend against the Yankees and see if they could take another American League East series. Since mid-April, they are 7-0-2 in nine series within the division.
And they got a nice headstart on winning another tonight with early offense and a Gunnar Henderson longball to lead 4-0. They beat Toronto 4-2 to improve to 65-51 with their eighth win in 12 games and 16th in the past 22 contests.
The Orioles remain leading the AL East by 1 1/2 games over the Rays, who won against the Yankees. 
The Orioles are 24-11 in series-opening games and 14-4 in road series openers.
The game, like many this year, was not without some late drama.
Reliever Yennier Cano allowed a solo homer in the eighth to Whit Merrifield to cut the O's lead to 4-2 and after an out, walked two straight batters. 
That brought on the Mountain, Félix Bautista, who got a strikeout with a generous call and popout to end that threat. He put up another zero in the ninth to get his 29th save. 
But it was anything but easy as Baustisa threw 35 pitches to record the five-out save. Left fielder Austin Hays made a remarkable all-out diving catch in the ninth with two on and one out of a Merrifield liner. And the Orioles held on to win another close one. If that ball in the left-center gap gets past Hays, it could be two runs to tie the game.
"That was the enormous play of the game, and Bautista sucking it up and getting five outs," said manager Brandon Hyde. "I'm looking for Cowser and I don't see him and then I'm praying for Hays. And just makes an unbelievable catch. Big spot, on turf."
Hays explained he and Cowser spotted each other and Cowser could tell Hays was a bit closer so he peeled off to back him up. Hays dove and made what he called the best catch of his career.
"That's gotta be No. 1 just with the situation in the game," he said. "Yeah, I'd say that's the best catch I've ever made.
"That is probably as far as I'll be able to catch one over toward center field. Félix throws hard, Whit likes to go the other way and we were shifted way over. He hit that ball right between us. I know it was far away when I dove. So I was going to have to do a swim move there in the air to get an extra couple feet there at the end."
The Orioles got this game and series off to a quick start, taking a 2-0 lead on Ryan Mountcastle's two-out, two-run double to right in the top of the first. Right-hander Chris Bassitt fanned Adley Rutschman and Henderson to start the game on 11 pitches. But he would throw 26 more to get out of the inning.
With two outs and none on, Anthony Santader walked and advanced to third on Ryan O'Hearn's 104-mph single into left. O'Hearn moved up to second on a wild pitch. That set the stage for Mountcastle's liner to right field on a high 2-2 cutter producing a 2-0 lead.
The Orioles entered tonight with an 18-6 record when they score in the first inning and a major league-best 34-10 mark when they score first.
Mountcastle is a career .306 hitter with a .981 OPS and now has 39 RBIs in 46 career games versus Toronto.
The Orioles extended their lead to 4-0 in the top of the third. The inning started with Henderson's line shot homer to right. He hit No. 17 on a 1-2 cutter and it was 3-0. It was his sixth homer in the last 20 games. Santander followed the longball with a double to left as the O's continued to get some opposite-field hits early on. O'Hearn's fly ball advanced Santander and Mountcastle's sac fly to right scored for him a three-RBI day and 4-0 lead.
Bassitt was at 72 pitches through the third inning. Bassitt had an ERA of 2.12 his previous three starts. But when he faced the Orioles on June 13 in Baltimore, he gave up eight runs and 11 hits over just three innings.
The last of the third ended with Bo Bichette pulling up injured after lining a single into right field. He was heading for second when he pulled up injured and was easily tagged out to end that inning. He was replaced on defense in the fourth by Santiago Espinal and the official word was right knee discomfort.
Meanwhile, Orioles right-hander Kyle Gibson, who gave up one run over seven innings to the Jays in May at Rogers Centre, was putting up zeros early on tonight. And getting strong defense from his infielders. Shortstop Jorge Mateo ranged left to make a nice play in the first and added a nice play from the hole at short two innings later. Third baseman Henderson ranged left to get a ball in the second, and then spun around and threw out Alejandro Kirk.  
Down 4-0, Toronto pushed across one run on Kevin Kiermaier's RBI grounder in the fifth. It followed leadoff singles in that inning by Daulton Varsho and Kirk, which put runners on the corners.
Gibson got the win allowing just four hits and one run in six-plus innings with two walks and five strikeouts. He threw 97 pitches, recorded his fourth quality start in five games and is 10-6 with a 4.53 ERA.
It was a night where the Orioles needed a lot to go right to win. From some early clutch hits to great defense, a quality start and a closer throwing 35 pitches at the end to win.
"I think when you match up with playoff teams and good teams, especially late, and when those good teams have good veteran players, that's how the game is going to be," said Gibson.
In seven AL East starts this year, Gibson is 4-2 with a 3.14 ERA. He's allowed two runs in 13 innings against Toronto. 
After his long first inning, Bassitt pitched through the sixth, allowing the four runs on 113 pitches. But he falls to 10-6 with an ERA of 4.00.
The Orioles, by winning the series opener, will now not be swept in 74 consecutive series. They tie the 1904-1906 Philadelphia Athletics for the fifth-longest streak in major league history.
After the great catch by Hays, Bautista fanned Espinal with a splitter to end it and the O's had another tough win. Hyde was asked about using Cano and Bautista so much in all these close games.
"It's hard," he said. "These guys have been so good for us. I pretty much pitch much of the same guys when we have the lead because our leads are usually pretty close. We've got to try and find some other guys to do that honestly. These division games, we want to try and get these wins. But it's been challenging. And these guys have answered the bell and done an amazing job to this point."
The Orioles beat a Toronto team tonight that is now just 3-19 in its past 22 AL East games. But they were a hot club coming into the series, winning five of seven and 14 of 21 games. And Toronto was 33-22 (.600) its past 55 games.
The Orioles are now 33-17 (.660) in games decided by one or two runs, the best mark in the majors. The Orioles are 6-1 against Toronto and 4-0 at Rogers Centre.
By accepting you will be accessing a service provided by a third-party external to https://www.masnsports.com/