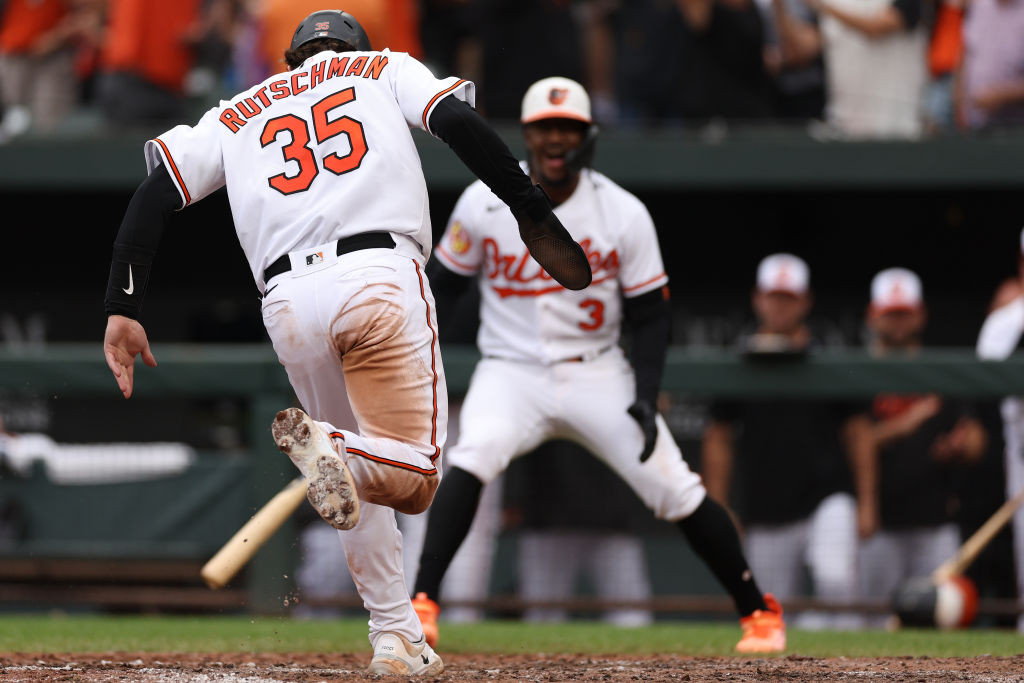 Amazing comeback: O's trail in eighth, ninth and 10th, yet walk off Rays in 11th (Hyde quotes added)
In a game in which they trailed by two runs in the eighth, and by one in the ninth and the 10th today, the Orioles produced a stirring comeback win.
One that lifted them back to a two-game lead atop the American League East at 93-56. They split the four-game series with the Rays, winning the last two games.
Cedric Mullins' sac fly with one out in the 11th scored Adley Rutschman from third and the O's had a walk-off win, 5-4 in 11 over Tampa Bay. An amazing comeback victory. And Mullins third career walk-off plate appearance. 
Before they sealed the win, Baltimore produced some late-game drama today. After Tampa Bay hit two homers to take a 3-1 lead in the eighth, the Orioles rallied to tie it with single runs in the eighth and ninth. They were down to their last out when they tied the score in the ninth and also in the tenth.
Down 3-2 to the last of the ninth, the Orioles rallied against Rays closer Pete Fairbanks. He came on in the last of the eighth with the Rays leading 3-1 and the O's pulled to within a run on Adley Rutschman's 19th homer.
Fairbanks got the first two outs in the ninth and the Rays were an out away from a win that would have put them in a tie atop the division. But Austin Hays singled and Jorge Mateo pinch-ran. When Adam Frazier doubled to left on a 101 mph fastball, Mateo circled the bases and the O's had tied it up 3-3. Camden Yards got loud. Very, very loud. 
Each team scored once in the 10th and the game went to the 11th tied 4-4. This was an epic battle by two teams intent on winning the AL East. 
Against Yennier Cano, the Rays' placed runner, Manuel Margot, moved to third on a grounder and scored on a high chopper to the mound. The O's had no play at home as Tampa moved ahead 4-3 in the 10th on Christian Bethancourt's groundout. 
But the O's were not done.
With the Birds again down to the last out, again Rutschman came through. His single to center off Fairbanks scored placed runner Aaron Hicks for the 4-4 tie. Rutschman had three hits and finished a triple shy of the cycle. 
DL Hall put up a zero in the top of the 11th, setting the stage for the final run and the win. 
When the Texas Rangers' result was final today - a 9-2 loss to Cleveland with the O's batting in the last of the ninth - the Orioles reached the moment when they had clinched a 2023 playoff berth, their first AL spot since 2016.
Earlier the Rays took charge in this game when they hit back-to-back homers off Jorge López in the top of the eighth to break a 1-1 tie and grab a 3-1 lead. A lead they would not hold.  
The Orioles began today with a magic number of one to clinch a playoff spot. It would shrink to zero with a win, but also would if either Texas or Seattle lost.
They clinched with the Texas loss and then took further control of the AL East with their own victory.
Tampa Bay broke up a tense pitcher's duel and a 1-1 tie by getting back-to-back homers off López from the bottom of their order.
First Tristan Gray, playing his second big league game, hit his first homer to give Tampa Bay the 2-1 lead in the eighth. He hit a 1-2 two-seamer from López 415 feet to break the tie after picking up his first major league hit, a single, in the fifth. Batting ninth, Bethancourt followed that with a homer of his own for a 3-1 lead. He drilled an 0-1 slider 411 feet off López and the Rays had a two-run advantage.
The Rays, who entered with a record of 72-22 when they score first this year, scored first today. They took a 1-0 lead in the top of the first.
It was one swing that did the damage. Second baseman Brandon Lowe, the second batter of the game, hit a Dean Kremer 1-2 curveball out to right-center. Tampa Bay took a 1-0 lead on his 21st homer, a 402-foot shot with a 101.5 mph exit velocity.
Neither starter, despite both giving up just one run, got deep into this game.
Tampa Bay righty Zack Littell gave way to Colin Poche with two outs in the O's fifth. Littell allowed four hits and one run over 4 2/3 innings on 55 pitches.
Kremer came out after allowing a leadoff walk to leadoff hitter Yandy Díaz in the Rays' sixth. The O's turned to lefty Danny Coulombe, who got out of that inning by getting Lowe to ground into a double play and Randy Arozarena to pop out to short.
Kremer went five innings-plus, yielding two hits and one run with two walks and five strikeouts on 86 pitches.
Against Littell, the Orioles got doubles in the first from Rutschman and in the third from James McCann, but failed to score either. The Orioles offense did not record either a double or triple in the first three games of this series.
But today their third double helped produce their first run. Ryan O'Hearn smoked a grounder back up the middle that caromed off Littell into left-center field, and O'Hearn hustled into second with a two-base hit. He struck that ball 99.4 mph. With two outs, Austin Hays hit a line drive single to left to even the game at 1-1 on his 62nd RBI.
The O's finish this homestand going 3-4, but as they are about to head out for their final regular season road trip, they have clinched the 14th postseason berth in O's team history. 
Today's attendance was 37,2097 and the four-game series drew 143,923 fans to Camden Yards.  
Manager Brandon Hyde on fans at end of game: "Unbelievable fan reaction. Just really happy for the players in that clubhouse. They have earned to celebrate. This is just the first step. Hopefully we have a few more celebrations the rest of the way. Love to see our guys feeling really good about themselves. For the guys that have never been a part of anything like this, this is why you do this and it makes it all gratifying."
Hyde, fitting to win like they did: "We wouldn't have done it any other way. Just a ton of guys stepping up in big moments. We had so many big plays I have to process it a little bit when I get this champagne out of my eyes."
Hyde on Rutschman's clutch performance: "Taking Fairbanks deep. We gave up two homers and were deflated and Rutschman gives us some life with the homer. Then he gets a hit in extra innings. He's a special player."
Hyde on being proud of entire organization for playoff berth: "I am very relieved we won that game and very happy for our players, our coaches, our trainers, and everyone, our front office. It's a big milestone to lose 110 games two years ago and clinch to go to the postseason.  
By accepting you will be accessing a service provided by a third-party external to https://www.masnsports.com/