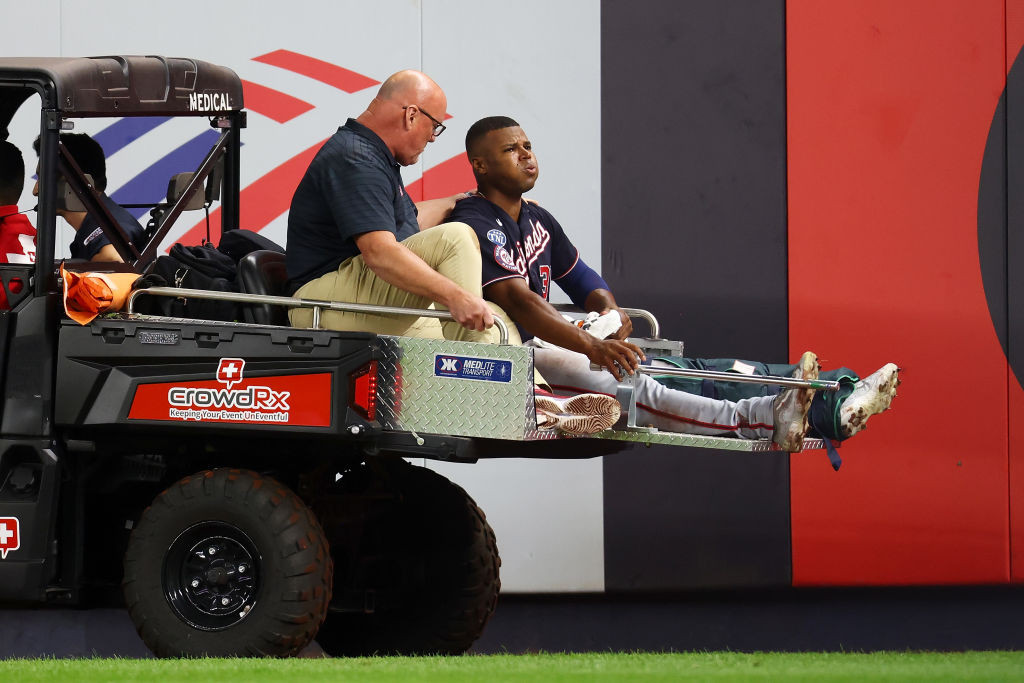 NEW YORK – What was already the Nationals' worst night in weeks, strictly from a performance standpoint, turned worse in the bottom of the seventh at Yankee Stadium.
A 9-1 loss to New York included a disastrous second inning for MacKenzie Gore and a defense behind him that was tough to watch, but that paled in comparison to the sight of Stone Garrett being carted off the field in tears after suffering what appeared to be a serious lower left leg injury.
The Nationals, who had won 20 of their last 30 and were trying to deal the Yankees their first 10-game losing streak in 110 years, were far more distraught about their young outfielder, whose promising season may have come to a devastating conclusion as he tried to make a spectacular catch to rob DJ LeMahieu of a homer that barely cleared the fence in right.
"Just one of those situations ... just sucks to see ... praying for him," Gore, one of Garrett's closest friends on the team, said as he unsuccessfully tried to hold back tears, needing to step away for a minute to compose himself.
His team already trailing by six runs at the time, Garrett raced back to the wall in search of LeMahieu's deep drive. He planted his left foot in the padded wall to get leverage for his leap, then fell to the ground and writhed in pain as LeMahieu circled the bases and a crowd of 37,266 roared before fully realizing what happened.