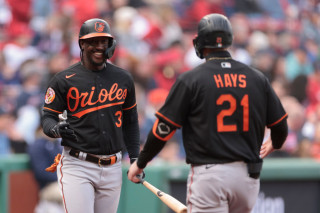 A late scratch from last night's lineup, shortstop Jorge Mateo is starting this afternoon's series finale against the Tigers at Camden Yards with no rain in the forecast.
Manager Brandon Hyde reconsidered yesterday with rain falling throughout the day, worried that Mateo might reinjure his right hip. Mateo, who hasn't played since leaving Wednesday's game in D.C., was on the field before 10 a.m. with head athletic trainer Brian Ebel to do some light running and side-to-side drills.
He must have passed the tests.
Cedric Mullins is batting ninth again today, with Austin Hays in the leadoff spot. Ramón Urías, who had a three-run double last night and later was ejected from the game, is batting cleanup and playing second base.
Gunnar Henderson is at third base and Ryan McKenna is the right fielder. Anthony Santander goes to the bench.