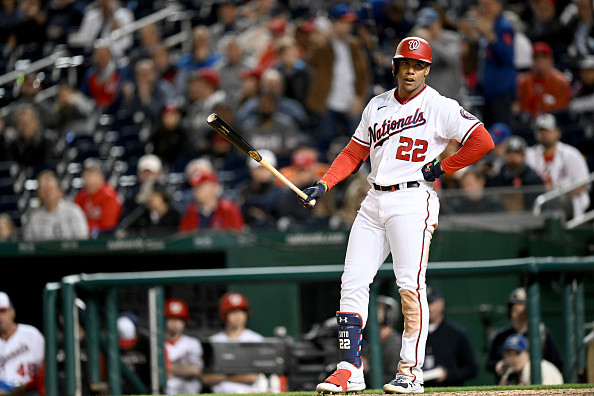 Juan Soto is going to dominate the baseball news cycle for the next 20 hours leading up to Tuesday's 6 p.m. trade deadline. If the Nationals end up trading the 23-year-old superstar, he's going to be the biggest player acquired at this year's deadline and possibly ever.
But for at least one more night, Soto was hitting third in manager Davey Martinez's starting lineup, playing right field and wearing "Nationals" across his chest. And if this is the last time that will be the case, he gave Nats fans one last classic Juan Soto performance.
Facing old friend Max Scherzer in his first three plate appearances, Soto went 1-for-1 with a 421-foot home run and two walks, albeit in an eventual 7-3 loss to the Mets. He finished the night 1-for-1 with the homer, three walks, two runs scored and a stolen base in front of a crowd of 29,034 who were either rooting for him to stay in D.C. or rooting for him to go to New York.
"For me, I'm playing for the Nationals right now. I haven't heard anything yet. So for me, just another game that I play," Soto said during a lengthy postgame meeting with the media.

In their first matchup in the bottom of the first inning, Soto was able to run the count full and draw a six-pitch walk. When Josh Bell, also still in the Nats lineup tonight, doubled down the right-field line, Soto advanced to third. But Mets right fielder Starling Marte threw the ball to second base with no one there, allowing both runners to advance and giving the Nats a quick 1-0 lead on Scherzer.